It was a while ago when I showed you Tom "Fast Yeti" Kassebaum's awesome 1968 Plymouth Road Runner. The video was filmed by David Ardoin Jr. who is the owner of this beautiful Nostalgia Super Stock Mopar. Now it's time to see the story of Dave's 1968 Plymouth Barracuda, so check out the video I put together for him and read all about the "Swamp Critter" below.
In the late 80's the 1968 Plymouth Barracuda was a daily driver. One of my best friends from high school (David Bertrand) had bought it for his wife Lisa. It started life as a 318 car with a 727 and an 8 ¾. It was still wearing its factory gold paint, with one primered front fender but it was a cool little ride.
We lived a block or two over from them and David and I car pooled (if you want to call it that) to work. When the sun was out we went on my Sportster. When it rained we went in the 1968 Plymouth Barracuda. At the time I didn't have a street legal car to drive, only my motorcycle and it sucked to go to work on it in a Louisiana thunder storm so the Mopar was a life saver.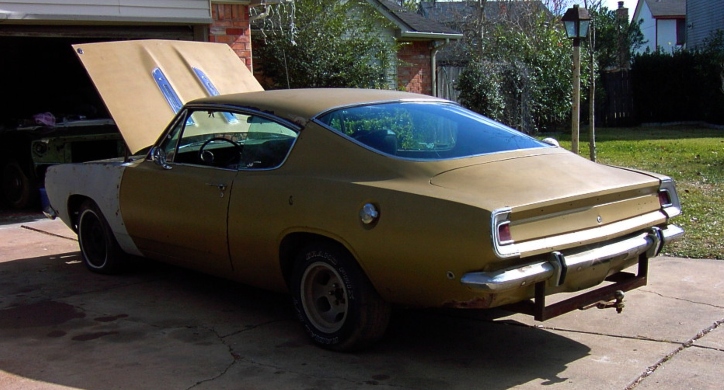 Fast forward a couple of years and I went off to the Air Force while my friend stayed behind. The 1968 Plymouth Barracuda was sold to his brother-in-law and disappeared after changing hands a couple of times. In November of 2003 I was out of the service and went home to Louisiana to visit.
While catching up with my old friends the subject of Lisa's old Barracuda came up. I asked if it was still around anywhere and my friend told me that yes it had made its way back to St. Landry where Lisa's brother had it back again. The best news was that it was for sale! We worked out a deal and I went to pick it up. It was in a very bad shape, but it didn't matter. I wanted that Mopar because of all the great memories we had in it.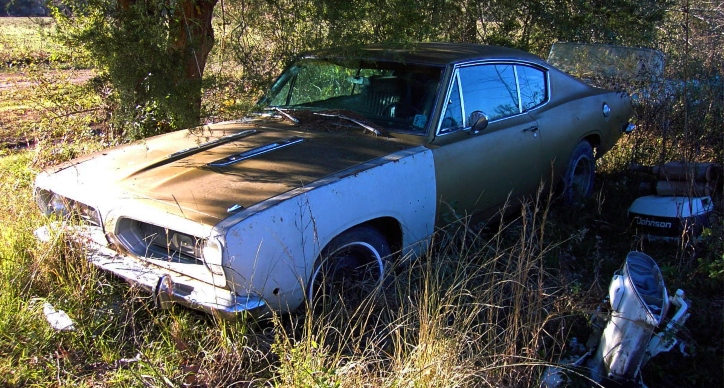 Dave's Nostalgia Super Stock 1968 Barracuda
This was a budget build to say the least. I started saving up for parts and would buy the big stuff once or twice a year depending on the money. One year my wife had been asking about getting a puppy and we went back and forth about it for a couple of months. When I said OK, she went out and bought a pair of Yorkies.
Great little pups, but she had used the money I was saving up for a pair of heads for my 1968 Plymouth Barracuda…LOL. I had pulled it from the bank and had it in an envelope on the dresser to pay for some Indy heads I found. She thought I had put it there for a puppy! Oh well, the heads had to wait another year!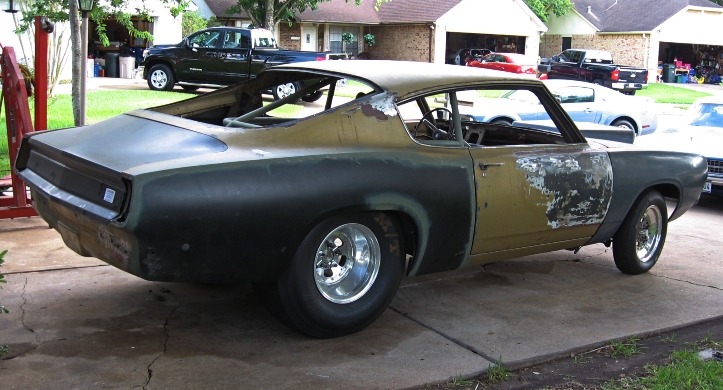 The cycle of buy some parts and save for more went on until it was time to have 1968 Barracuda the chassis built. This was beyond my scope so I farmed it out to Mark Artis at Texas Thunder Performance in Frisco TX. Mark was great to work with and built my cage and 4-link. There was no question that I wanted a 4-speed and between Damon and Mark they helped make it happen and helped me pick out the parts.
They both ran NSS 4-speed cars and had a great recipe for which parts could take the abuse. I ended up with a Boninfante single disc clutch, and a Jerico 4-speed with Long shifter and Lakewood bellhousing. By then funds were very limited so I picked up the rolling shell with a spanking new chrome molly cage and headed home to do the tin work myself.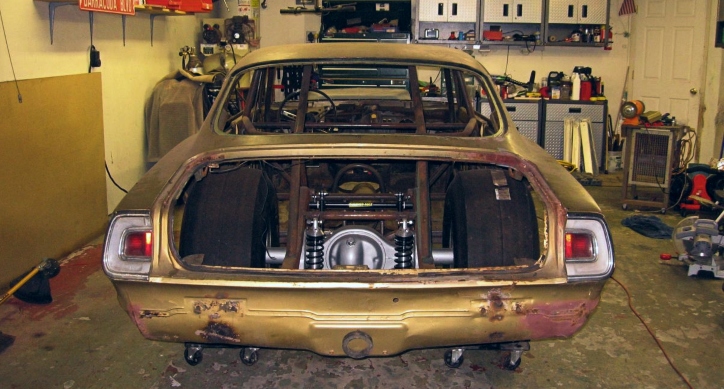 The next year it was time to start on the 1968 Plymouth Barracuda engine. That task was handed off to Damon Kuhn at Diamondback engines in Rosenberg TX. It started as a hot 383 cubic inch V8 that might just get me into one of the lower classes for Nostalgia Super Stock. Damon convinced me since I already had a pair of used Indy heads to go for a 496" low deck 400 based "B" motor with all the goodies. It took me two years of saving to pull that one off, but the results speak for themselves!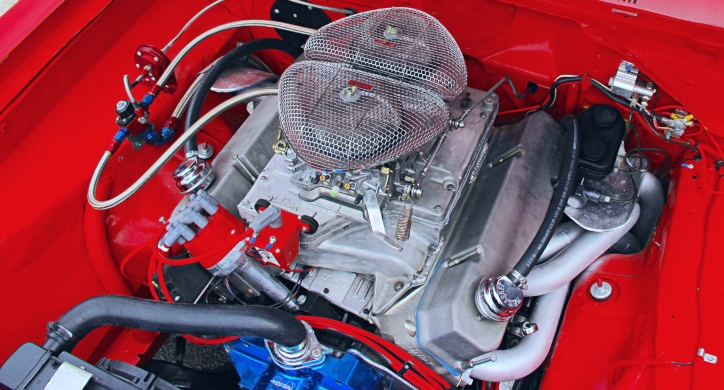 While Damon worked on the 1968 Plymouth Barracuda engine build, I continued working on the rusty floors quarters and other rusty bits. Most of the rear deck was rusted around the trunk lip and window, and the quarters were dented and rusty and trashed. From the drivers seat back to the taillights and most of the front floor pans had to be replaced……It drug on and before I knew it 2013 was upon us. I finally admitted defeat and needed some help to finish it.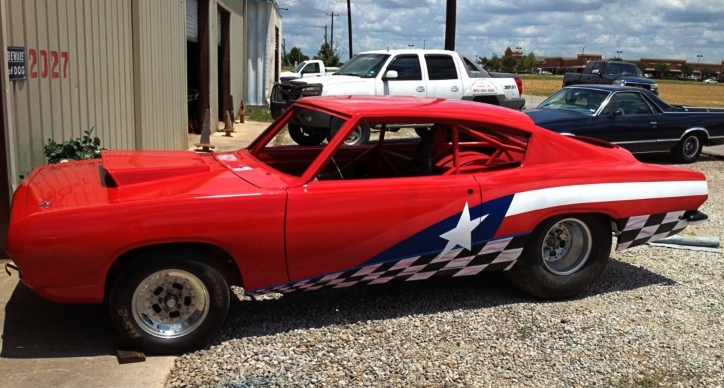 Damon stepped up and put a lot of blood and sweat in to pick up where I left off and help me finish my 1968 Plymouth Barracuda. By June of 2013 it was wearing a nice coat of Texas Thunder Red and headed back up to Frisco TX for Mark Artis to paint on the checkered tail feathers and Texas Thunder graphics. It was starting to look like a real race car and came back with the name Swamp Critter.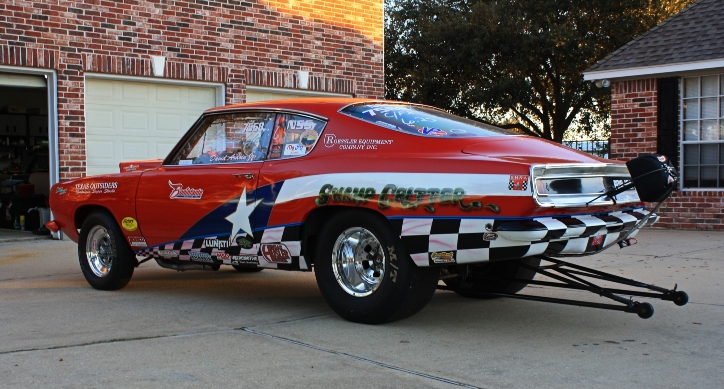 From there things moved quickly and on October 26 of 2013 Damon made two test passes in Swamp Critter at Lonestar Motorsports Park. The first two passes were done by Damon for 2 reasons. First it was a brand new car and I figured if he could handle a funny car, then this would be a breeze and second the fastest car I had ever raced was an 11 second street car.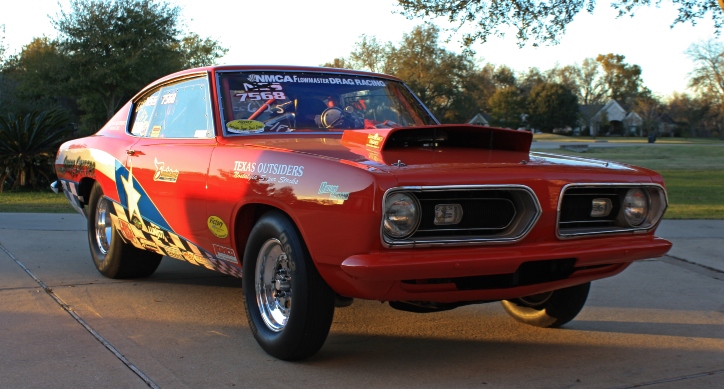 This proved to be a very good idea because on both launches the 1968 Plymouth Barracuda turned for the fence at the launch. We packed up and headed home to readjust the suspension. A couple of weeks later after some quality time at Damon's shop, we were back for another round.
Damon made one very hot pass and the Swamp Critter was straight as an arrow. He got back to the pits and when he got out of the car said it goes straight, it's your turn. That night I made several very nervous passes but didn't crash or break it. It was a great night.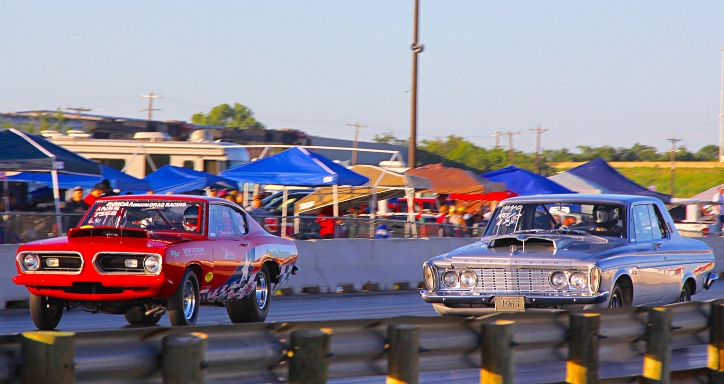 On March 24 of 2014 I made it to my first race at the Texas Motorplex. Since then I have run in as many Nostalgia Super Stock events as I could attend. Mostly with the SHRA group, but also with the Victory NSS series. In Nostalgia Super Stock we have very strict rules that govern our classes. We race on NSS and FX indexes. There are no power adders allowed, no electronics or trans-brakes and the biggest slick we are allowed is the 33 x 10.5w.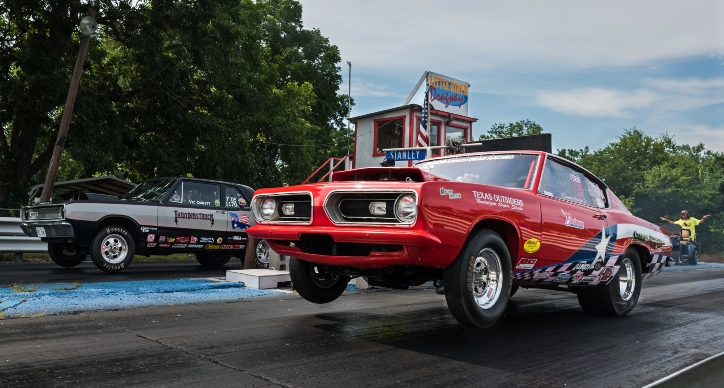 The 1968 Plymouth Barracuda current set up consist of a 496 low deck stroker motor dressed with Indy heads and Lunati cam and paired with long shifter 4-speed Jerico. It has a Boninfante single disc clutch and Moser 9.5″ rear end with 5.00 gears. The motor has never been dynoed and Dave estimates it at 750-780 horsepower based on the weight and mph.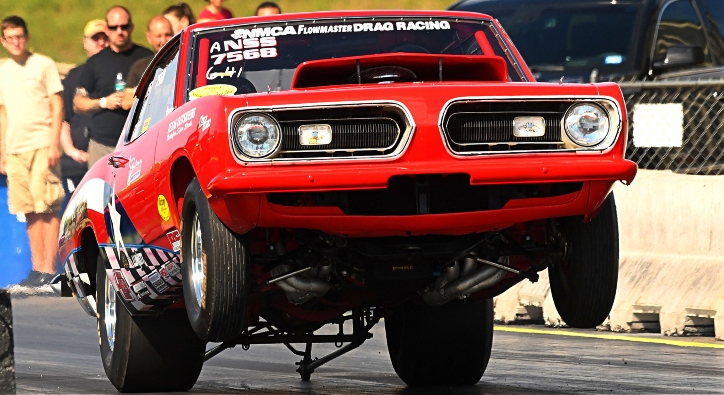 At the moment the Swamp Critter runs mid 9-seconds on the 1320 and low 6's on the 1/8 mile, but after saving money for 5 years Dave is almost ready to put the 1,000hp new engine in. His friend Damon at Diamondback engines is almost done with it. The 1968 Plymouth Barracuda new heart starts with a 426 HEMI Mega Block with the old "433" aluminum heads, a Ray Barton intake and a bottom end built to spin 9K.
Did You See the 8-Sec Plymouth "BARBIE" Duster Story?