Chris and Tammy White's Moulin Rouge 1973 Plymouth Duster 540 is one of the main attractions at the Spokane County Raceway. It's cute, wears Pink and is high maintenance, that's why they have named it "Barbie" Watch the video I put together for their awesome Mopar and read more about the car story below.
Powered by a blown HEMI when the 1973 Plymouth Duster was still down in Alabama, the car was called "Pink Panther" and was one of the fastest in the area running the quarter mile in 6-seconds.
Once the chassis got outdated, it was sold without the Big Elephant and the new owner in Georgia put a 440 with Indy heads in the engine bay. Pushing around 700hp the 1973 Plymouth Duster was a strong competitor at the South Georgia Motorsports Park and won the Super Pro Double Up two days in a row in 2013 when Chris saw it for the first time.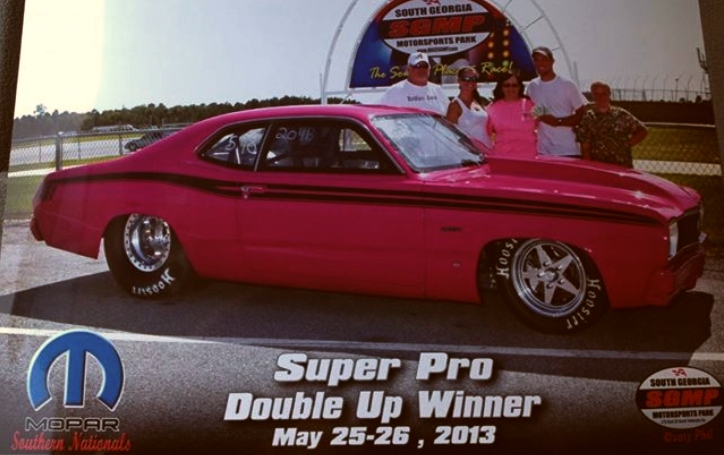 After competing with his Valiant for couple of years, Chris wanted something faster and was looking for a full chassis car. He fell in love with the 1973 Plymouth Duster and talked to his wife Tammy. They ended up buying the Mopar and brought it to Idaho.
Of course, having a new race car Chris spent a good amount of time fixing and upgrading things. He did hundreds of passes with the 440, won many races and became crowd's favorite at the Spokane County Raceway before the all aluminum 540 Indy engine replaced it.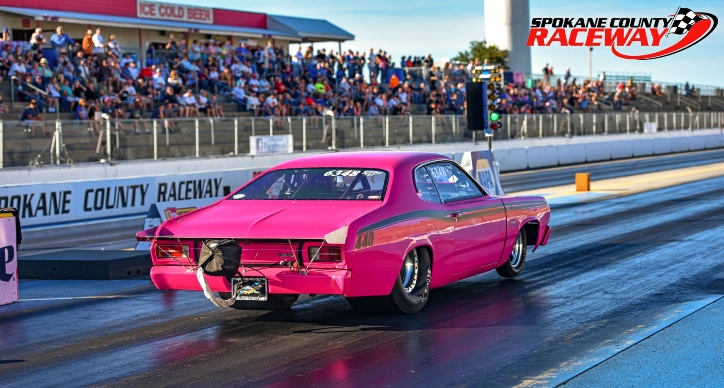 The 1973 Plymouth "Barbie" Duster has a billet Randy Ray Powerglide trans with T-brake, and 9″ PTC 5500 converter. Chris leaves at 4500 on a chip, using a Pro Cube pro stage air launch. After few bars were added the chassis is now 7.50 certified.
It's all tube with FC cage, has a fab 9″, 4:57 gears, and 40 spline axles. The Mopar has anti sway and track locator bars, wing and chute. Barbie leaves like a Pro stocker with 1.2 60's. The tires are 33.5×17″ wide, and 16″ Champion bead lock rims. So far, no wheelie bars needed.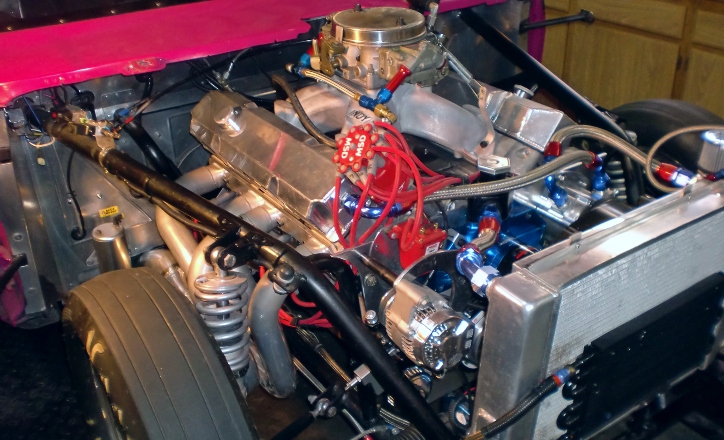 When I asked Chris what's his best ET, he said: "It's complicated. The Duster ran 9.02 here at 148 mph @ 5000′ and 97 degrees. That was with the old carb. With the new carb (bigger) it made 50 more RW HP, and 60 HP at the engine on the dyno. Our clocks are also NHRA attitude adjusted, meaning our super street class which is 10:90, is indexed to 11:15.
All our cars (all of mine) run 3.5-4 teethes quicker at sea level. My Valiant ran 11:20 here, ran 10:80's at Seattle with no adjustments. So the ET is kind of an hard question to answer. Based on several ET converters, I would say it is an easy high 8.70's, to low 8.80's car.
Don't Miss the Story of Ronny's 496 Stroker Plymouth Sport Fury