I first featured a burnout video of Dave Watson's 429 SCJ Torino Cobra and it went crazy on social media. Then I got in touch with Dave, and now have the Calypso Coral 1970 Ford Torino full story. Check out the video I put together and then read the story told by Dave below.
My obsession with the 70-71 Torino started when my sister bought a 1970 Ford Torino GT with a 351C 4V. That thing would burn rubber forever with one of my brothers behind the wheel. I ended up owning that car when I turned 16, but got rid of it shortly after that because I spun the bearings and when it was running the Police followed me everywhere thanks to my brother's burnouts all over town.
But I was already hooked and in 1987 while at a Cruise In my wife spotted a Rusty Yellow Ford Cobra Torino sitting for sale. A few days later I owned it. Searching everywhere for body parts I had no luck, but one day a friend gave me a tip that there was a Calypso Coral 1970 Cobra sitting in a field ditch behind a barn. Once again, a few days later I owned that car as well.
Dave's SCJ Torino Cobra
I really wanted a Yellow Torino Cobra but since the Orange one was rust free and had zero drivetrain and mouse infested interior, I combined the two cars to what I have today. I restored the body and painted it in my Body shop during the evenings and weekends. I stripped the body to bare metal, primed it, and sanded it 2 times before applying PPG Deltron and Deltron Clear.
The interior from the yellow Cobra was nice so I used it. I found a wrecked Cobra that was stripped and had been inside since the mid 70's. I used all the weather-strip from it. Since both the Yellow and the Orange Cobra had bent hoods I had to get another one. Found a 4-door with a nice flat hood and cut the holes for the shaker and hood pins. The rear window louvers were added and came from the Yellow Cobra. By 1989 the Calypso Coral 1970 Torino Cobra was on the road.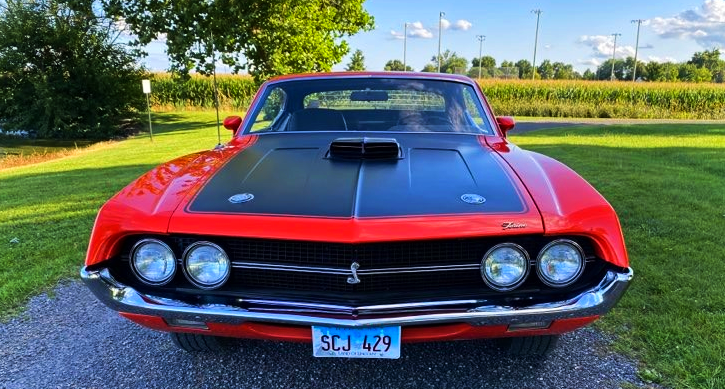 Without prior experience I rebuilt the 429 SCJ by following the factory rebuild manuals, but soon got bored of car shows and started messing around with it to make it faster. Old racer told me he shifted his 429 SCJ at 7,500 RPM in the 1/8th mile with 5.14 gears. The very next day I removed the factory 6,150 rev limiter and 6,500 RPM shifts became the new norm. Then Super Ford Magazine did a cam test in a 429 SCJ and the exact cam I had pulled to 7,200 RPM before it fell off. So the 7K shifts came next.
After years of abuse the factory Super Cobra Jet rod finally gave up so out came the 429 and in went a 429 SCJ stroked to 512 cubic inches. I had some overheating problems and that motor only lasted 1 year before it spun a bearing at 7K RPM. Out that motor came and in went a fresh 429 that was on a stand just to get by till I built a new motor for my burnout machine.
The Ford 557 CI Stroker
I built my 1970 Ford Torino present motor with a forged steel crank with 4.5" stroke and bored the block to 80 over. Yup, that's now a 429 Super Cobra Jet stroked to 557 CI with 11.8 to 1 compression. I worked over the factory heads with light weight valves and titanium valve keepers with Harland Sharp roller rockers, so I could clear the factory Aluminum valve covers. I massaged the heads with bowl porting and clean up on the intake side and heavy porting and raising the roof on the exhaust side.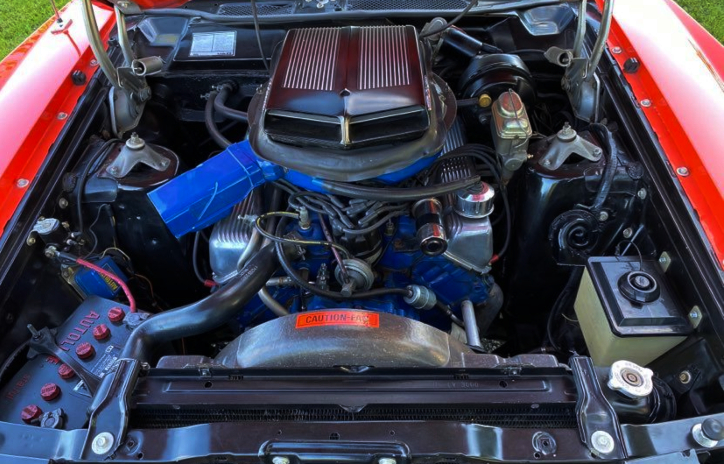 The factory exhaust had to go so I installed Hooker Super Competition headers and 3" pipes into Dynomax Super Turbo mufflers with 3" dumps. When people ask me why I don't have tailpipes, I tell them because I like to set off car alarms in parking lots which is easy to do with the exhaust pounding the pavement.
I stayed with the factory SCJ intake and under the factory Shaker I run a Quick Fuel Holley modified by C&S and it flows 1,000 CFM to feed the stroked motor. I run the factory top-loader with factory Hurst shifter connected to the motor with Lakewood bellhousing and run a Ram sintered bronze 6 puck disc since I wasted several clutches doing 7,000 RPM burnouts. Out back is a factory 4.11 gears in a 9" with 31 spline axles, N-case and Detroit locker.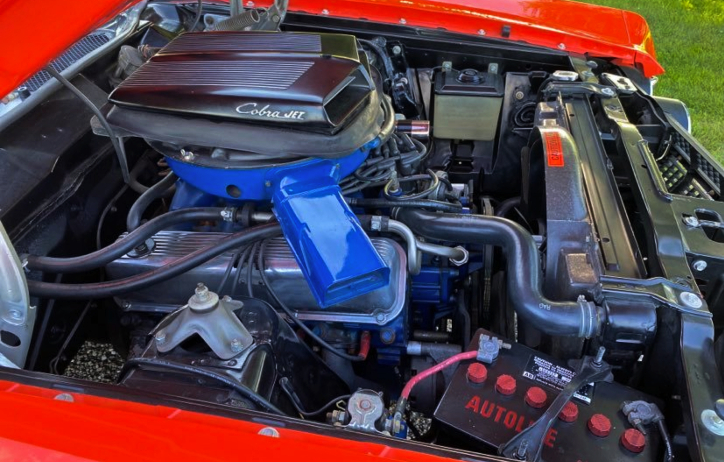 Dave's Ford Torino Cobra Build Becomes Famous
In 1994 I went to a Car Cruise after checking out the GTOs at the GTO Nationals in Springfield, IL. At the cruise 3 guys approached me and said they were from Musclecars Magazine and wanted to photograph my 1970 Ford Torino Cobra. I thought it was a joke but in March of 1995 Musclecars Magazine featured my car on the cover of the magazine.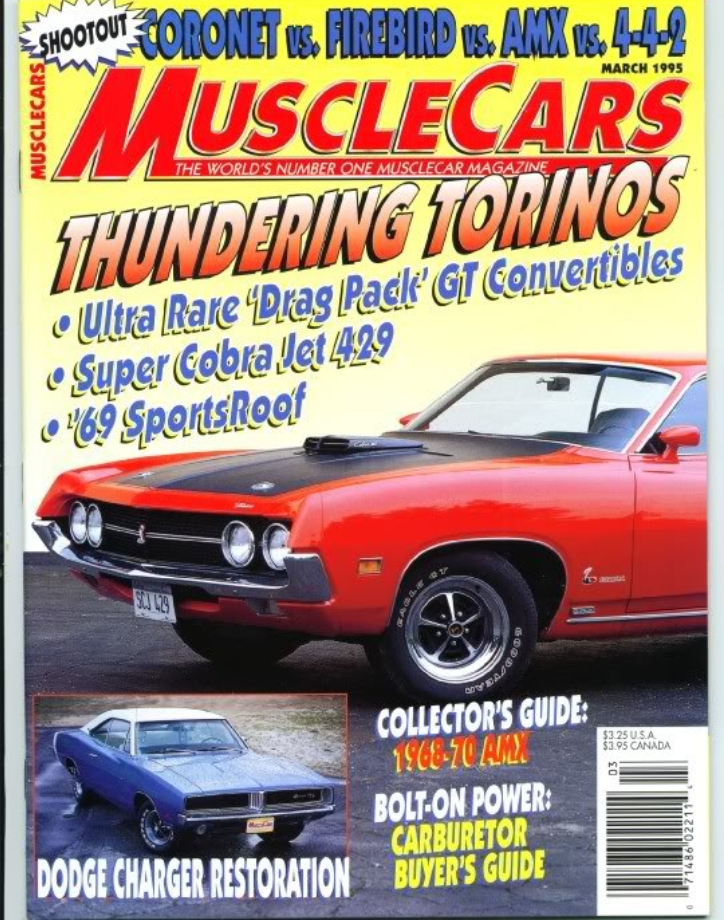 In 1998 I pulled out the drag gears and put in 3.50 gears and drove from IL to Bowling Green, KY to the World Ford event. With a few buddies we drove down to the event with about 75 Fox Bodies. I was there to see the hundreds of cool Mustangs, but I was mobbed for 3 days with people wanting to know about my Torino Cobra. That Sunday night we opened it up and ran over 100mph all the way home.
In 2006 I took my Torino Cobra to the Hot Rod Super Nationals in Springfield, IL and was looking at cars when a film crew went by and over the hill. A couple of buddies said the guys from Hot Rod TV are over at your car and want to talk to you. So, after some filming, my Cobra and I are on episode #8 on Hot Rod TV.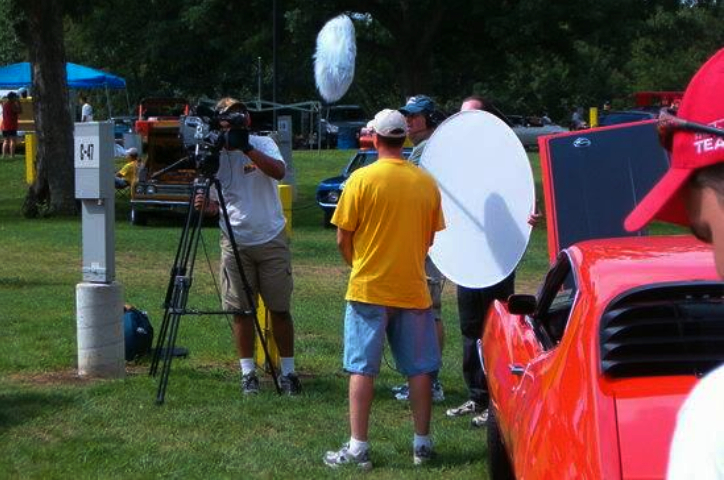 The car is still wearing its Calypso Coral paint from 1988 when I painted it in my Bodyshop. In 2012 the car was attacked by a deer. The deer was assaulting the hood then jumped on the hood on all fours then took off. It kind of messed up the flat black on the hood but it makes an interesting conversation at car shows.
People at car shows ask me if I trailer it and I just laugh. I drive my Torino Cobra everywhere and abuse it every time!
Future plans for the car is to put it on E85, turn on the 150 shot of NOS I have for it and installing a solid roller camshaft. This winter I am taking out the top loader 4-speed and putting in a 5-speed Tremec TKO 600 with the original handle and shifter arm on it to keep the stock 4 speed look.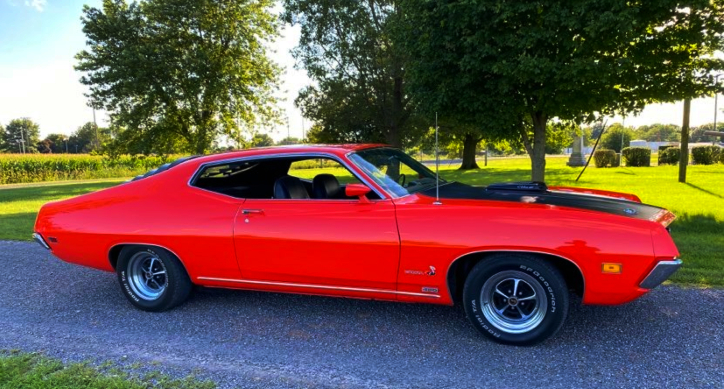 I have no plans of ever getting rid of the 429 SCJ Torino Cobra because I'm still out there having fun and making memories and meeting people that stop and share their stories about the musclecar that got away. I'm also working on a 1970 Ranchero GT 429SCJ Shaker, 4-speed Drag Pack that matches my Ford Torino. Same color, wheels and flat black hood.
You May Also Like the 428 CJ Ford Torino 1/4 Mile Pass