When Jim sent me couple of photos of his 1961 Chevy Impala I immediately fell in love. While it is not a factory SS car, the attention to detail on this tribute is outstanding. The multiple awards Jim's Real Fine 409 brought home are the proof. Check out the video I put together for his fabulous hot rod and read the story told by Jim below.
The Saga of the Chevy SS 409 Bubbletop
I have always been a car guy and my first car in high school (1968) was an Ermine White 1961 Chevrolet Impala Convertible. It was a 348 V8 with "three-on-the-floor" sitting on chrome reverse wheels.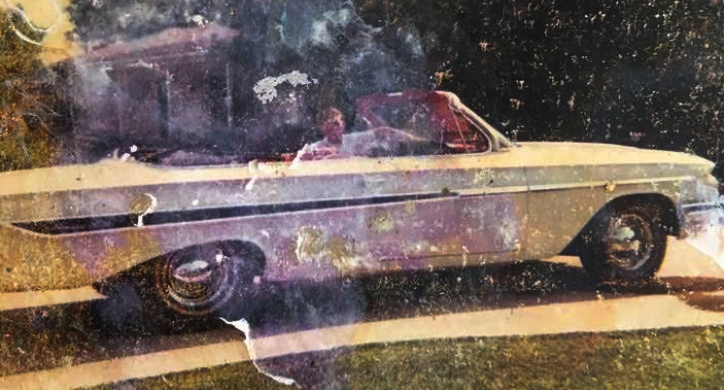 In early 2018, my oldest and best Army Buddy (Dave Ochipinti) was visiting, and we were looking at hot rods at several DFW Area Car Consignment locations. We spotted a '61 Impala Bubbletop and I commented how close it was to my high school car.
I was not considering buying a car. That day led to many internet searches, which found my car in Boston. Extremely coincidentally, we had plane tickets to visit family in Boston just a few days later. It all seemed pre-destined. So, I bought the car and shipped it to Dallas.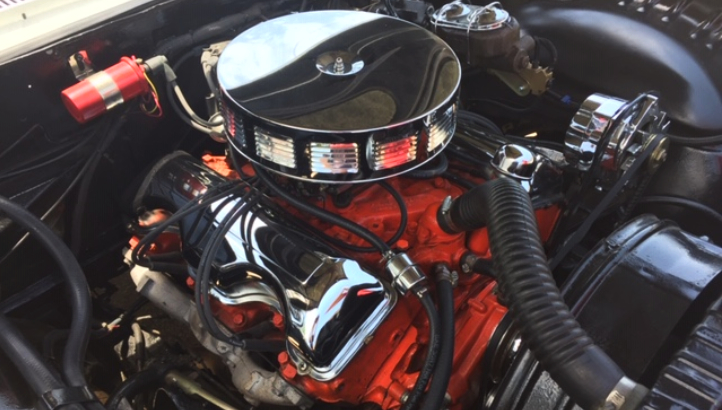 It was a very nice car, with a beautiful interior with '64 Chevy Impala buckets (all original 61's were bench-seats) and console. Fitted with solid but stock 348 4-barrel, a Saginaw (early Camaro) 4-speed transmission with Hurst linkage and shifter.
It had Retro-Sounds stereo and Frenched-In electric antenna. Power front disc brakes, modern tubular A-frame front and updated rear suspension and American Racing 5-spoke wheels.  I enjoyed it very much and had a lot of early success at local car shows. I did some updates, including power steering, hydro-boost brake system, and a few dress-up additions.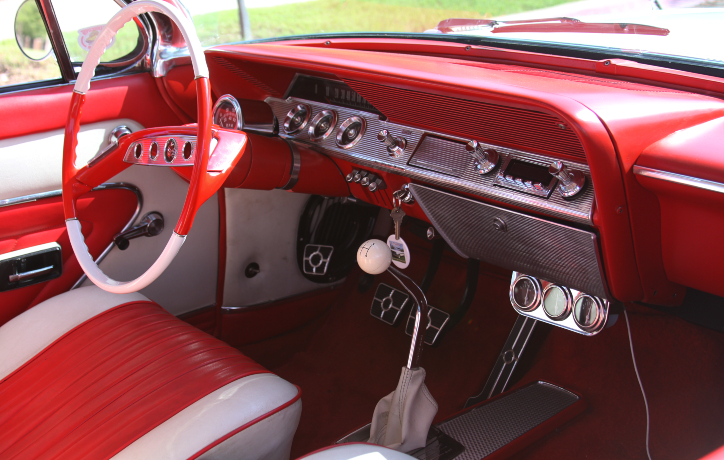 The '61 Impala Becomes SS 409
In 2020, I got a tip about a Chevy 409 engine for sale, "in pieces". Once again, I had no plans to do a dramatic upgrade but the deal on the engine was too good to pass up. That led to the dramatic transformation to what my 1961 Impala is today.
Research showed the engine was a 1964, 425 Horsepower short-block. Many other new parts were included. Edelbrock heads, intake, carbs, and water pump, MSD ignition, and more still in the boxes. The 425hp version was the highest horsepower and last 409 Chevy built. So, I bought it and the conversion commenced.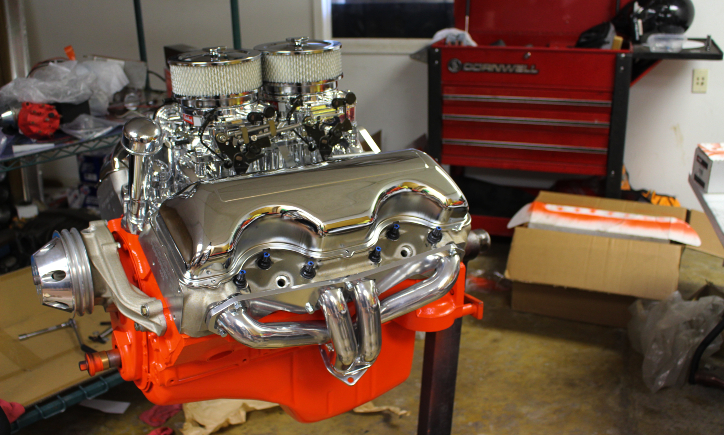 I learned that late in the '61 model year Chevrolet added the first "Super Sport" option package. The cost was $54 and included full SS wheel covers and SS trim inside and out. Chassis reinforcements, power steering and brakes, special sintered metallic brake linings (four-wheel drums), stronger springs and shocks. Only 456 SS packages were sold with either a 348 or a 409, the first offering of a 409 in a Chevrolet automobile.
Only 142 SS-409's were sold. It was a single 4-Barrel 360hp version, and today is considered one of the most collectible Chevy's, of any body-style, ever built. I decided to build a tribute to those Chevy SS 409's as part of the engine upgrade. That's why the SS badges to the exterior and interior were added.
Building the Dual Quad 409 Engine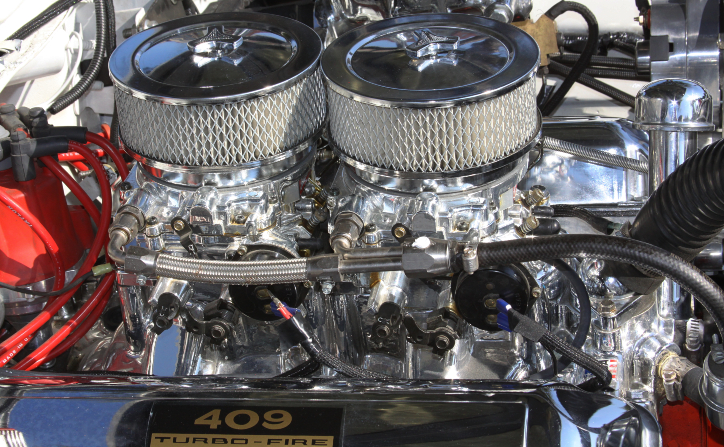 John Willard (Willard Automotive, Lewisville, Texas) who had done some of the work previously, started the upgrade work. He allowed me to be his "wrench handing" assistant as we built the engine from the bare block up.
The engine was bored 0.060" over (to 421 Cubic Inches) and added ICON pistons, a COMP hydraulic roller cam, LUNATI roller rockers and lifters. Edelbrock Performer RPM aluminum large port heads, and matching large port aluminum intake, topped by 500CFM Edelbrock Dual-Quads.
Sanderson "block hugger" (necessary with the Chevy's X-Frame) headers completed the engine build. The engine has been estimated to be 475hp with 475ft. lbs. The Saginaw 4-speed transmission was replaced by a Muncie M-20 4-speed to handle the over 200hp increase in engine power.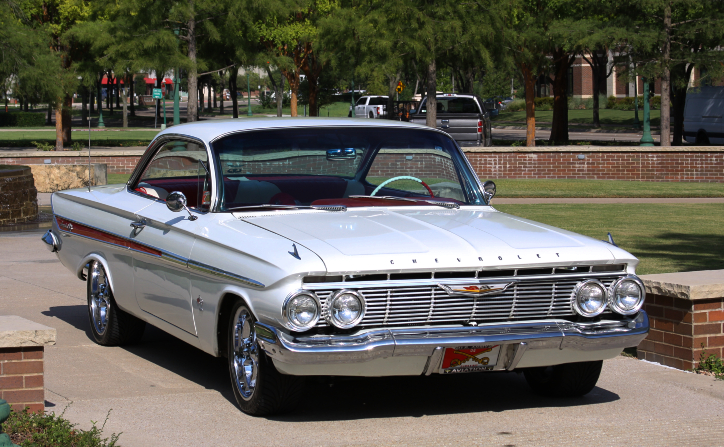 The '61 Impala Gets More Mods
Shortly after the engine and transmission upgrades, the original 1961 Chevy Impala passenger car differential very dramatically showed it was not up to the task of putting the power of the Dual Quad 409 to the pavement. So, a Currie 9″ Posi-Traction was installed. While we were there, we built a complete 2 ½" stainless steel mandrel-bent exhaust system with Flowmaster mufflers and electric cut-outs.
During the engine build process, Mark Lowe (Nite Shift Auto, Lewisville, Texas) did the clean-up and beautiful two-stage paint job of the engine compartment in the car's exterior Ermine White color.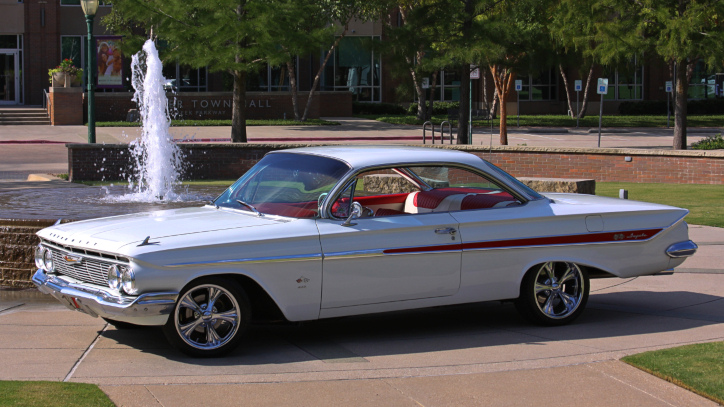 Boyd Coddington "Crown Jewel" chrome wheels and low-profile tires were added along with 2" drop spindles. The Marsh serpentine belt system and custom-built polished stainless-steel fan shroud, hydro-boost pump cover, and battery box were all added to complete the engine compartment.
I enjoy driving the '61 Chevy Impala on weekends around Dallas and showing it at local car shows. Lots of "thumbs up" as I drive it. Many stories from car show attendees about the cars, they or relatives had. I don't consider it a show car, but attended 90 events from 50 to 2,500 cars. It won over 65 awards including many "Best of Show", "Best Engine", "People's Choice", and "Best Interior" awards.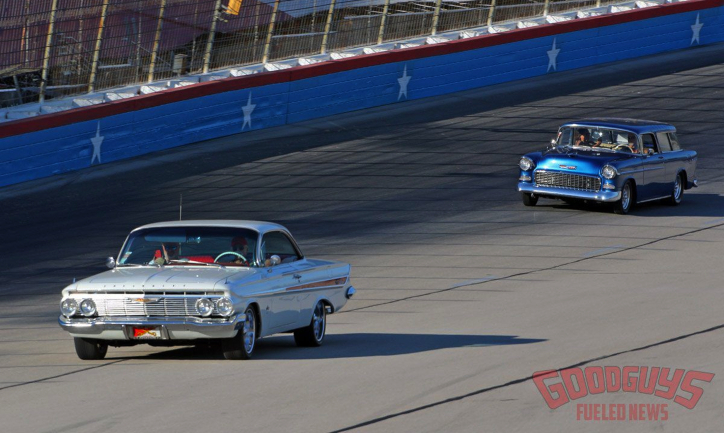 Thanks to John Willard and Mark Lowe for making the build happen and thanks to Dave Ochipinti for helping start it all, and to my wife Jill for allowing it all to happen. As the Beach Boys once said, "I saved my pennies and I saved my dimes (many of them) to buy my 4-Speed, Dual-Quad, Posi-Traction, 409." 
Did You See John's 57 Chevy Bel Air Build Story?