Introduced in 1958, the Chevy Biscayne was one of the cheapest full size Chevrolet cars. Today we hardly see any even at car shows. When I came across Scott Frea's custom build I just had to write a piece on it. The attention to detail is outstanding.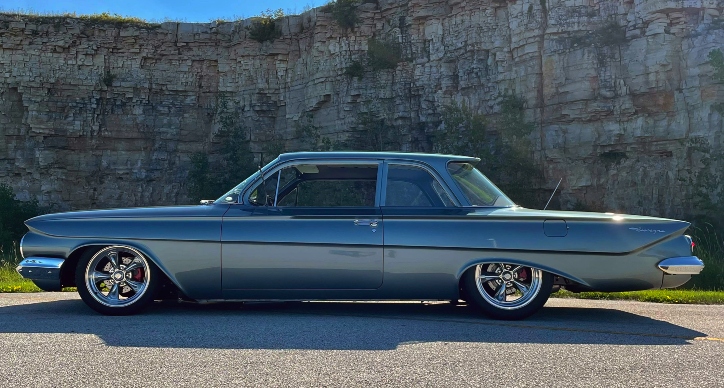 The 1961 Chevrolet Biscayne Build Story
Scott tells me that he dreamed about building a 40 Willys Coupe for many years. But as they say, life is what happens to us while we are making other plans. He was not even looking for a project car at the time, when a 1961 Chevy Biscayne online ad caught his eye. The car was located near Omaha, NE.
Scott and a friend of his headed out on a nine hour drive from Sturgeon Bay, WI to check out the 1961 Chevy Biscayne for sale. It was a six cylinder car with three on the tree. Scott handed the cash and hit the road. "The nine hour ride home was an event, 70mph the whole way, the sassy six never missed a beat".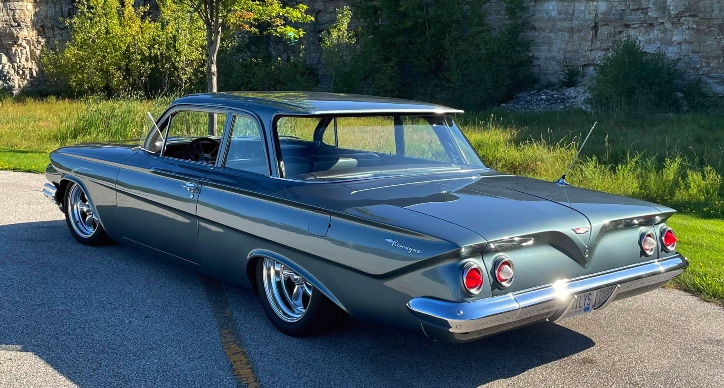 ---
"Upon my arrival at home, the 1961 Chevy Biscayne went straight into the shop and did not see the outside for another 3 ½ years"
---
The Chevy Biscayne was a little rougher than what Scott originally thought. Trunk, floors and quarters had to be replaced. When he found that he needed a trunk lid, Scott headed to a local salvage yard. He discovered the old '61 Chevy that his Parents owned many years earlier. You guessed it, the trunk lid now rides on his car.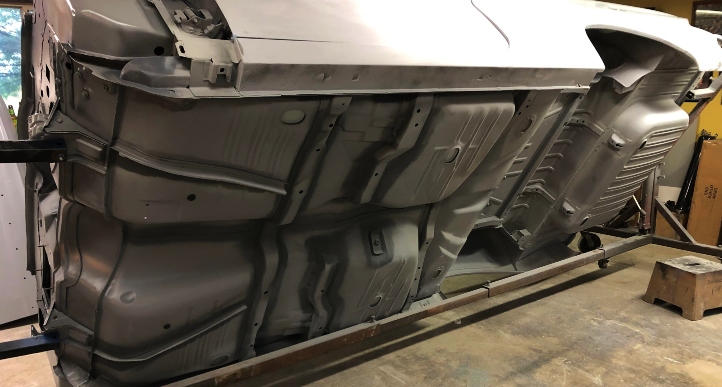 All the 1961 Chevy Biscayne glass was replaced with new. All new wiring from American Auto Wire. Frame, suspension, interior garnish moldings, and dash insert along with all the little mounting trinkets were powdered coated from Calibre Coatings, Two Rivers, WI.
The hot rod rides on bags filled with dual compressors, stored out of site in the trunk. Wheels are American Racing 17-inch up front and 18's at the rear. Scott shares that the hardest part of the build was choosing the color. After three months, the decision was made. The 1961 Chevy Biscayne was painted Aventurine Green from the Porsche color chart. Not sure about you, but I dig it.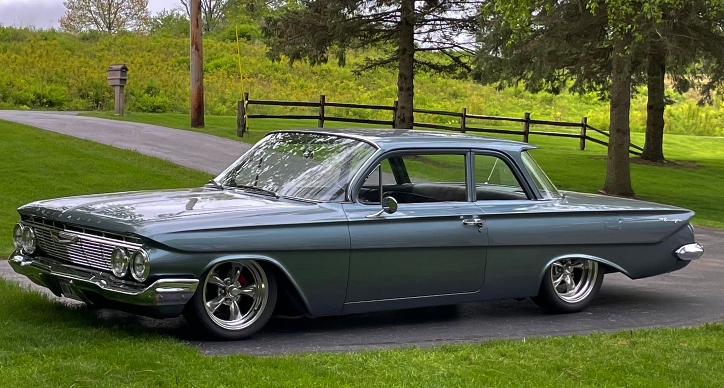 Chevy Biscayne Engine & Interior
The full custom interior and trunk was done by Don at Inside Rides Custom Upholstery. Dakota digital gauge cluster lights up the 1961 Chevy Biscayne dash. Lokar floor shift and Ididit steering column were installed.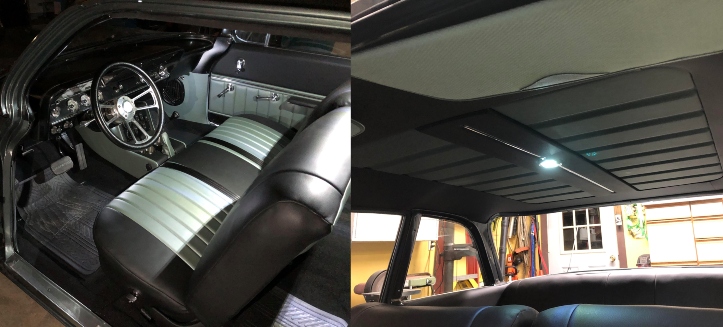 Of course, the 1961 Chevy Biscayne factory six cylinder is gone. The current powertrain is LS1 Corvette and 4L60-E transmission mounted with BRP Hotrods kit. Cooling flows through an aluminum radiator also from BRP.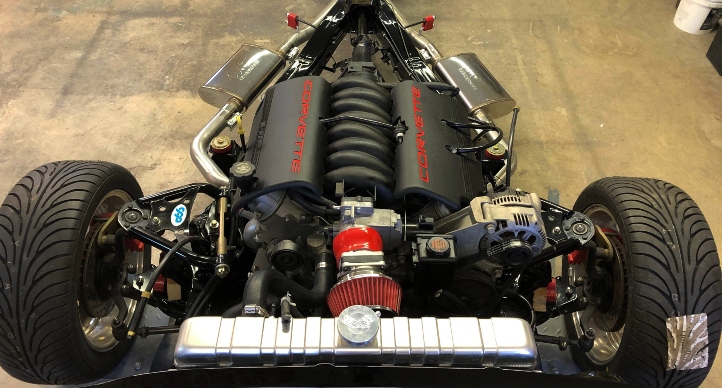 ---
"This 1961 Chevy Biscayne build was in no part done alone. Special thanks to a couple of brothers and a very good friend" – Scott Frea

---
Don't Miss the Custom '57 Chevy "Brown Sugar" Build Story