While not long ago Jim Reeves' daughter had no interest in old cars, Jennifer is now a true hot rodder and proud owner of this 1963 Chevy Nova SS. This is one of those stories reminding us why we love the hobby so much, and what is the true value of the hot rods we built. Read the full story of this Father & Daughter project told by Jim Reeves.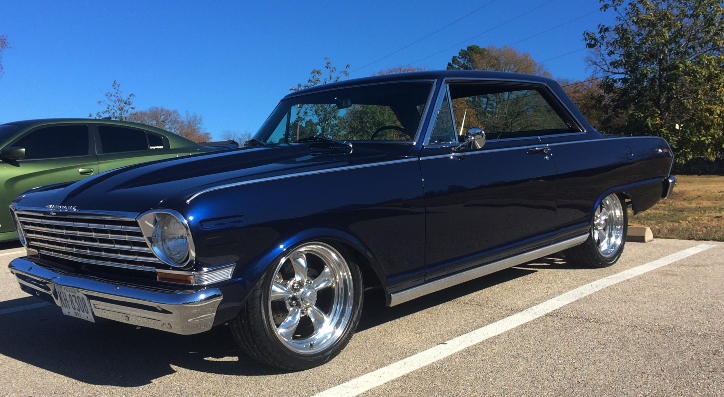 I was a fan of the Overhaulin' series and had it set to record and watched the new episodes each week. Our daughter Jennifer didn't seem to care much about the show but would occasionally watch part of them when I had it on. She began to ask me questions about what and why they were doing things during the restoration process and found it amazing how they could take cars and trucks in terrible condition and turn them into beautifully restored classics with modern drivetrains and suspensions.
One Saturday morning, I told her I was going into town and to come with me. I didn't tell her I was taking her to a big indoor car show at a local exposition center. We spent a long time going from car to car while I answered her questions and explained and showed her good restoration work and explained why some of the work was not so good.
We then started going to local car shows and that fall I took her to the biggest car show in East Texas, Classics Round the Square in Emory. While we were there that day, she asked me if we could get her a car to restore. I told her we could as long as it's a Chevrolet, had two doors, was built no later than the mid 70's and considered a true classic.
Jennifer then began to look at various cars; she took her time and we discussed the pros and cons of various models. She really liked Nova's and began to look for one she thought would be good to restore. Then one day, she showed me an EBAY post for a 1963 Chevy Nova SS. I looked at the photographs of it and told her it appeared to be really rough and told her perhaps she should keep looking. She insisted it was the one she wanted, so I calculated the cost of the car and the value of the new parts that came with it and told her to hit BUY IT NOW.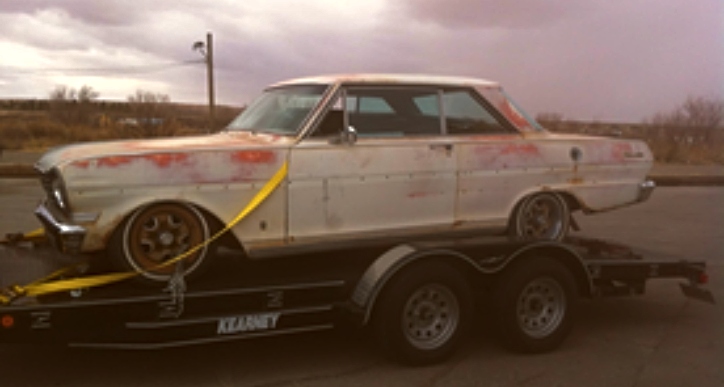 We drove from our home near Tyler, TX to the west side of El Paso to get it. It took us two days to pick up the '63 Chevy Nova and trailer it back. On the way back, we went through Ft. Worth and Dallas in rush hour traffic and heavy rain.
I put in a shed at our home and began disassembling it and tagging and bagging all the parts and fasteners. I started ordering parts as I could afford them and sending items off for chrome plating or polishing. I also began looking for the OE items we needed that were not available in the aftermarket – that was a nightmare!
I knew the car had to be a "roller" so the first major item I ordered was the Total Cost Involved Involved "Street/Strip" suspension with a 9″ Ford differential. I installed the front suspension so it could be easily loaded into an enclosed trailer. TCI also provided the Ididit steering column, headers. and Wilwood four wheel disc brakes.
I continued to accumulate parts, making sure to get everything needed to build the 1963 Chevy Nova. I boxed all the parts by where they would be used in the build. I put the parts into categories such as interior hard parts, interior soft parts, outside moldings, electrical, exterior moldings etc. I made sure to put fasteners with the parts so the builder wouldn't have to search for them.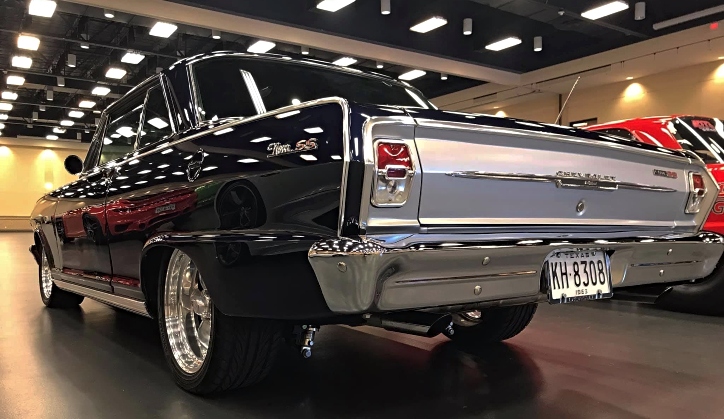 Jennifer wanted a Chip Foose color but we found out it was no longer available so she decided on BASF Diamont Honda Obsidian Blue Pearl. It was an excellent choice as we get many compliments on the paint of our '63 Nova.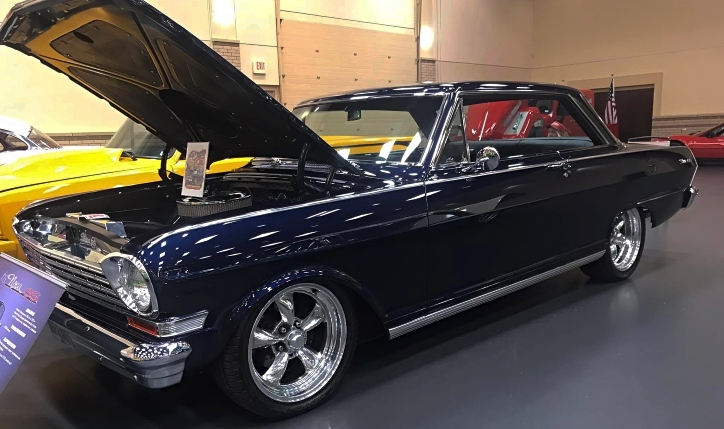 We chose A&R Classic Restorations in Emory, TX for the build. They also put on the Classics Round the Square Car Show. They started the build in late 2018 and finished it in 2020. They put Jennifer's 1963 Chevy Nova on the Classics Round the Square tee shirt for the 2021 show.
Thus far, Jennifer has two Best of Show awards, a Best Paint award, a Best 60 and Older Muscle Cars award, a Best Car 1969 and Older award and many second place awards and many sponsor's awards.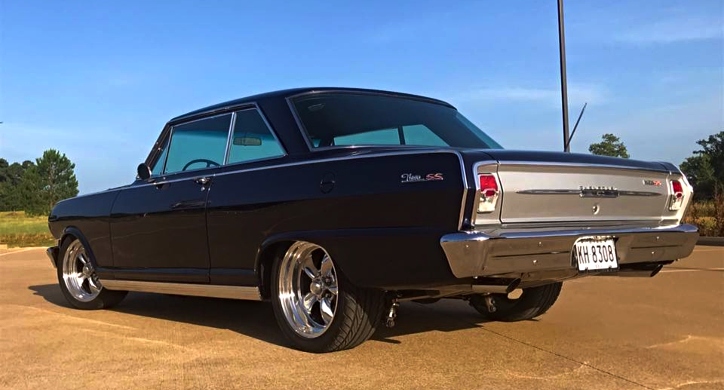 JENNIFER'S 1963 CHEVY NOVA SS
True "X" code Super Sport – The Super Sport option, all trim items in 63, was $161 extra.
Total Cost Involved "Street/Strip" independent front suspension with power rack and pinion steering and four link rear suspension
9″ Ford rear end with 3:70 gear ratio and limited slip traction control
General Motors Performance Products 350 cubic inch 330 horsepower V8 crate engine.
700R4 transmission
Vintage Air with their "Front Runner" serpentine belt assembly
Be Cool aluminum radiator and electric fans
Pertronix ignition
Classic Instruments gauges
NuRelic Power Windows
Custom Autosound AM/FM radio
Shifter by Shiftworks
Steering wheel restoration by Steering Wheel Bob
American Autowire wiring
American Racing Wheels Torq Thrust II 17″ wheels
BASF Diamont Obsidian Blue Pearl paint
Wilwood four wheel disc brakes
New Port Wipers
Ididit Steering column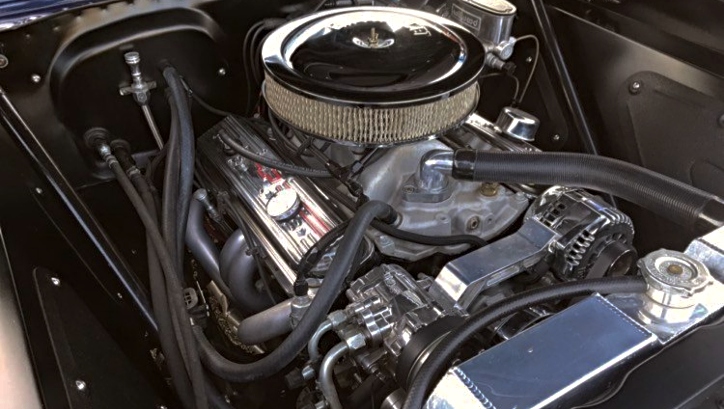 VENDORS & PRODUCTS USED IN BUILD
Classic Industries
Chevy II Only
SS396.com
Lutty's
Pauls Chrome Plating & Polishing
Total Cost Involved (TCI)
GM Performance Parts – 350 cu. in. 330 hp. crate engine
Jegs – 700R4 transmission
Summit Racing
American Racing Wheels Torq Thrust II wheels
Vintage Air
American Autowire
Shiftworks
Be Cool Radiator
Classic Instruments
Custom AutoSound
BASF Diamont Paint – Honda Obsidian Blue Pearl
NuRelic Power Windows
New Port Wipers
Build by A&R Classic Restorations Emory, TX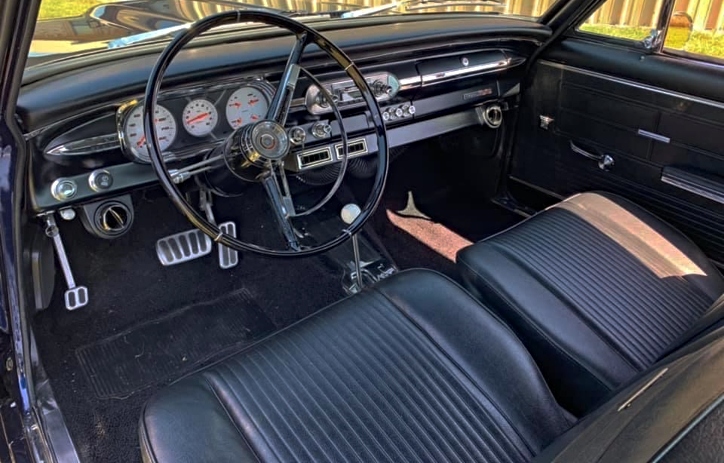 Did You See the 1963 Chevy Nova Race Car Story?