It has been 3 years since we featured Donnie Edmonds all motor 9-second Chevy Chevelle. The car is outstanding, and the story is one of the most touching I have ever wrote. Today we are going to look at his 1966 Chevelle 300 Sedan. A gorgeous hot rod that sports a 427 Big Block and Muncie 4-speed combo.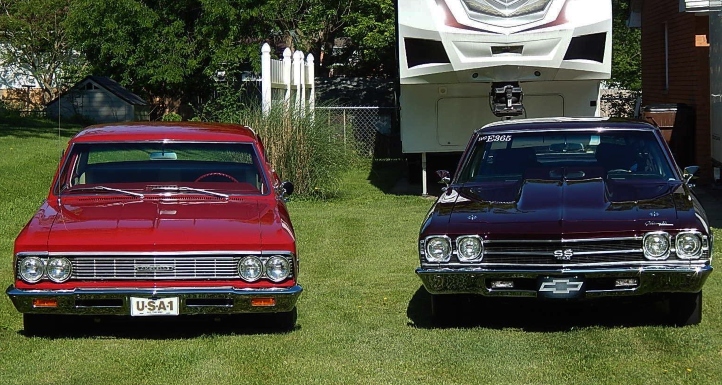 Now is just the right time for Donnie to share with us all details on the 300 Chevelle build. Why is that you may ask. Because, Donnie is taking a step back from cars until he gets his Classic 1985 Stepp Velocity 22 boat project completed. A gentleman from Chattanooga, Tennessee will most probably become the new 1966 Chevy owner very soon. So here is the story told by Donnie Edmonds.
Donnie Edmonds 1966 Chevelle 300 Sedan Story
This 1966 Chevy Chevelle 300 Sedan was originally ordered by Norma H Hoag from Rudolph Chevrolet in Phoenix, AZ. She ordered the car with 3 options: Deluxe seat belts, Tinted glass and Air-conditioning. The car originally came with a standard 250 6-cylinder engine and a Powerglide trans. The Chevy spent its entire life in Phoenix.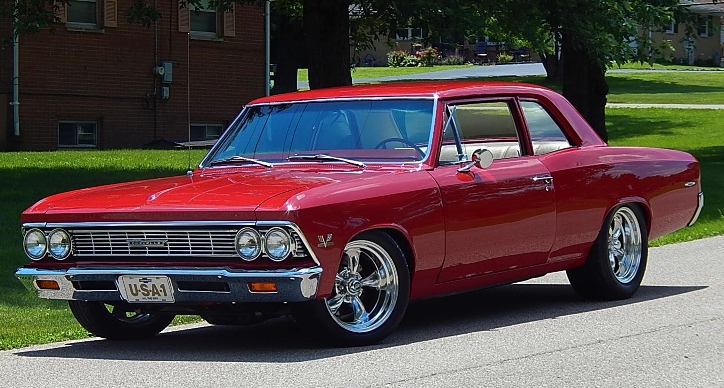 In 2015 it was purchased by a body and paint guy in North Carolina. He had a vision of what he wanted the 1966 Chevelle to be and he began a frame off restoration. I was told that the car had zero rust and no panels were replaced. The original Tan paint was stripped away and the Chevy was shot with GM Garnet Red.
The cloth beige 1966 Chevelle 300 interior was changed to a tan and brown vinyl. The original 6-cylinder and Powerglide were traded out for a 427 Big Block Chevy and a Muncie M-20 4 speed trans. The stock 10-bolt open carrier rear end was replaced with a 12-bolt with an Eaton Posi and a 3.55 ring and pinion.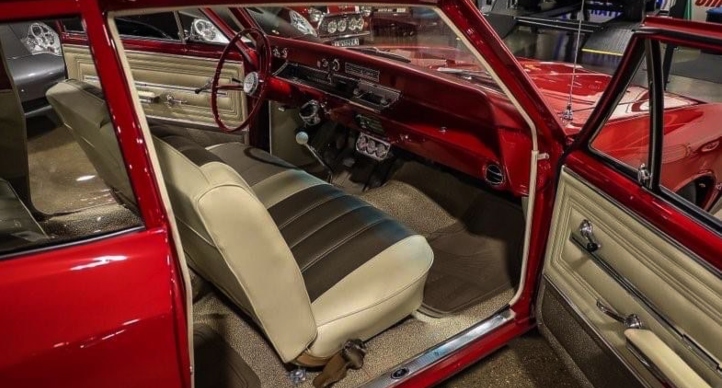 Donnie Acquires the 1966 Chevy Chevelle
I found the car in May of 2020. It was clear that the guy who started the restoration was a much better body and paint guy then he was a mechanic. The Chevelle had a worn out 427 that was seriously on its last leg. The mismatched parts made for and anemic combination and the car sounded like a thrashing machine.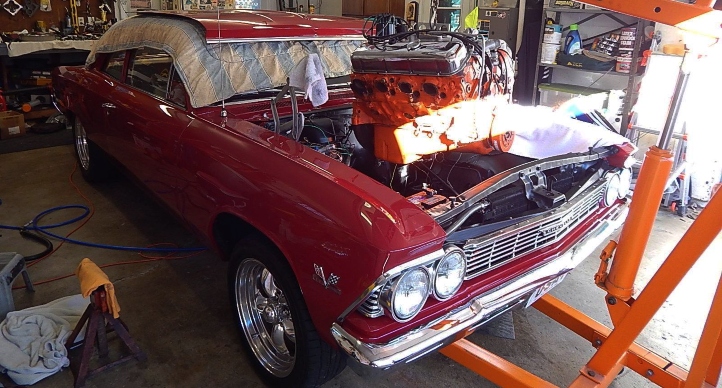 I once again took out the engine, trans and rear end out of the 1966 Chevelle. I also found that some of the brake lines were copper. Much of the wiring wasn't acceptable, and cheap gauges were used. The 427 was disassembled and what was found was a poor example and a post card of how not to build a Big Block Chevy.
The 427 BBC Engine
Everything in the engine was pitched in the scrap heap with the exception of the block and a GM standard forged steel crank. A set of Eagle forged rods with ARP 2000 bolt, SLP forged pistons, a Straub Technologies profiled hydraulic roller cam, with a set of Morel solid lifters rounded off the short block.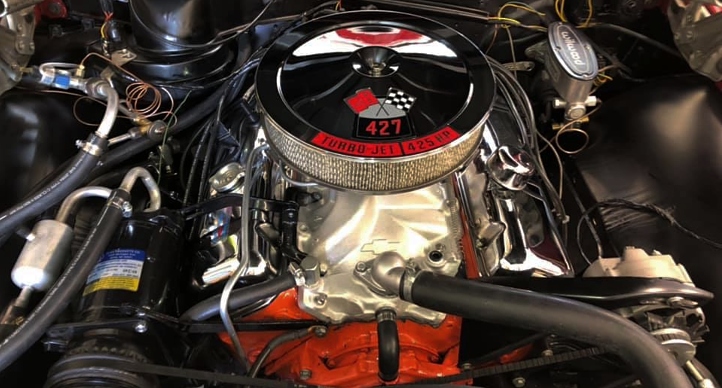 AFR 290 Magnum aluminum heads took the place of the old over port heads. A GMPP 406 casting dual plane intake along with a BRE Holley 800 CFM dual line double pumper carb were installed. A Per-Tronix ignition and a set of Hooker Competition headers finished off the new 1966 Chevy Chevelle engine.
The Muncie 4-Speed
The 4-speed was sent out to a local Muncie trans Guru Don Pearson. He found that the trans did have the good Italian gears in it, so all that was needed was resealing and new bearing. Some minor changes were made to the Hurst Competition Plus shifter to make the combination shift like a dream. A Ram dual friction clutch and pressure plate was installed with an original GM cast bellhousing. The 427 Big Block engine and trans were ready to be fitted in the 1966 Chevelle.
Then it was time to address the 1966 Chevy Chevelle driveshaft. A 3½" shaft was built by A-1 drivetrain, and the rear end was pulled apart. Since it had a GM 3.55 ring and pinion in it, all it needed was bearing and seals along with a little clean up.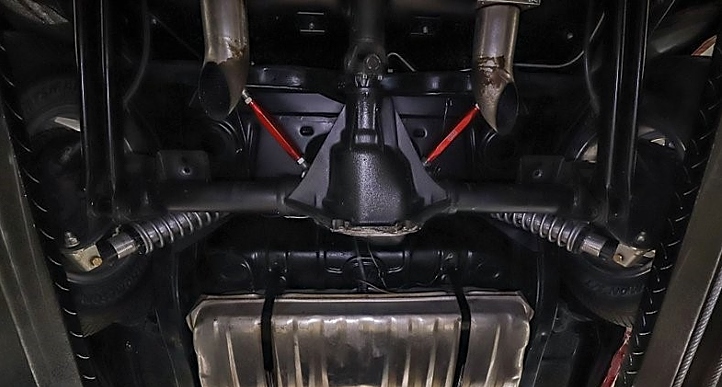 Wheels and Suspension
The stock shocks and rear suspension were replaced with QA1 rear tubular control arms and QA1 rear end braces. The factory F41 sway bar was used with QA1 adjustable coil overs on all corners. Up front a set of Wilwood discs and manual master cylinder was used.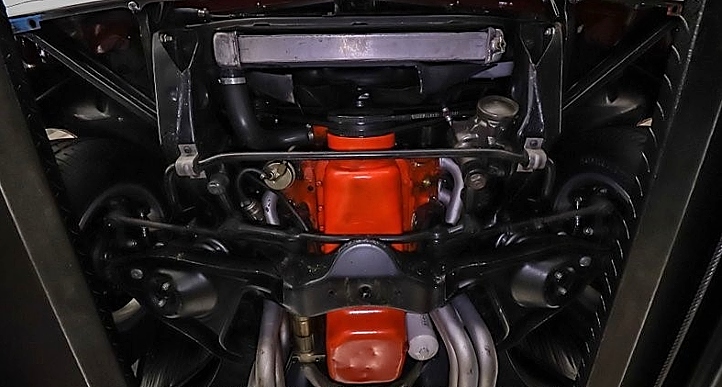 I removed the D-Spoke 15-inch wheels and  Mickey Thompson Sportsman tires. I put on a set of 17×9.5 and 17×8 polished Torq Thrust 2 along with Nitto G2's. The current set up is 275x50x17 at the rear and 245x45x17 up front.
I am very happy with how the 1966 Chevy Chevelle turned out. It runs very well for a 10 to 1 pump gas engine. All of the original AC components were either replaced or rebuilt by Old Air Products. Never had an issue, even on a hot summer day.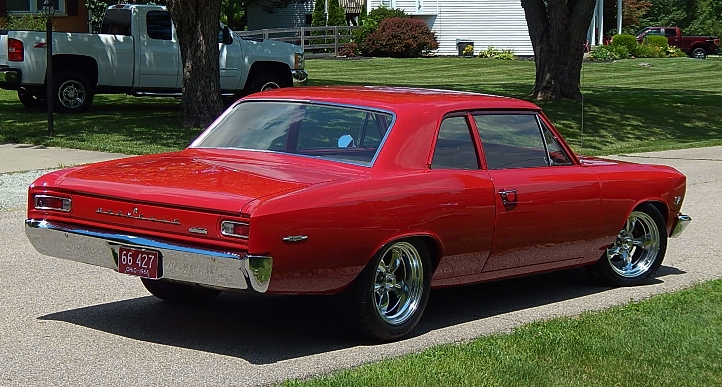 I hate to sell it, but it's time to let someone else enjoy the '66 Chevy. Once I'm done with the boat, I will begin my next quest. Finding a 1965 Chevelle 300 post car like the one I had to sell when my oldest son was born.
Did You See Scott Frea's 1961 Chevy Biscayne Build Story?