This 1968 Plymouth Barracuda restoration was performed way back in 1999. Current owner Mike Baldwin, a lifetime Mopar man has never stopped enhancing the iconic muscle car. Mike has acquired a '70 Road Runner at the age of 16 and wanted another Mopar ever since. But with four children it was close to impossible.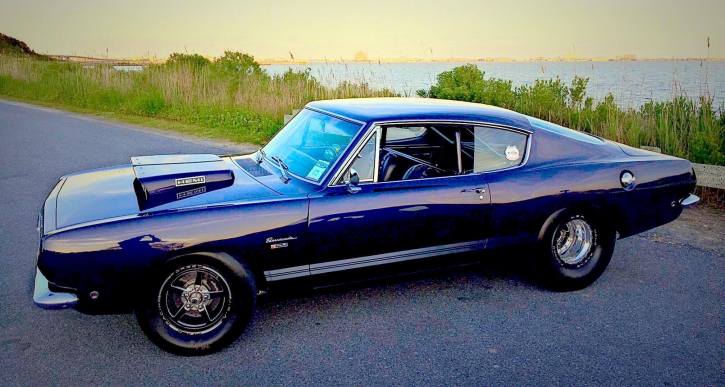 Luckily Mike's oldest Son started to show interest towards old school Mopars. They spotted this 1968 Plymouth Barracuda on Ebay in 2001 and traveled 9 hours to see it. Father and son fell in love with it right away.
The 1968 Plymouth Barracuda Receives 528 HEMI
Today Mike's 1968 Barracuda turns heads with laser straight body painted in Deep Purple with Ghosted Silver 528 HEMI markings on the hood. Ghosted side stripe and set of 15-inch Weld Racing Aluma Star wheels wrapped in fat Mickey Thomspon's add to ts aggressiveness. The car sits on QA-1 fully adjustable shocks all the way around and has a four-link rear suspension.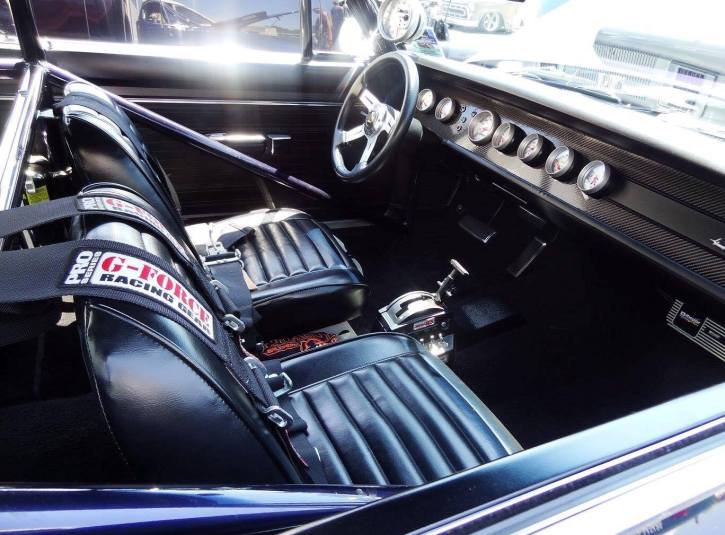 Inside the Purple Plymouth Barracuda you will see a neat Black leather interior with 10-point roll cage, A100 Dodge van and super stock seats and set of Autometer gauges. My favorite part about this Mopar is under the fiberglass hood.
Mike has replaced the 474 cubic inch Muscle Motors V8 with a Ray Barton built cross-rammed 528 HEMI beast. The engine is equipped with Dual Holley 770's with Mopar Hemi Air Horns, Hedman headers and Aeromotive A1000 fuel system.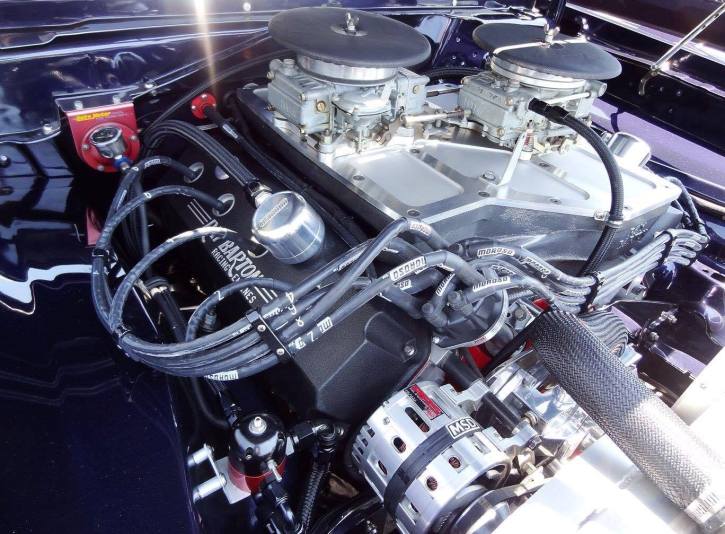 Mike's 1968 Plymouth Barracuda weighs 3300 lbs without the driver and kicks in 875hp and 735lb-ft. The 528 HEMI is connected to ATI race built 727 TorqueFlite with LPW deep-finned pan and 9″ 4300-stall converter. Cheetah SCS Competition shifter, line locks, trans brake and Dana 60 rear end with 4.30 gears control the power.
Mike Baldwin's 528 HEMI powered 1968 Plymouth Barracuda has received multiple awards at variety of car shows. The Fish intimidates the competition at the drag strip and turns heads everywhere it shows up.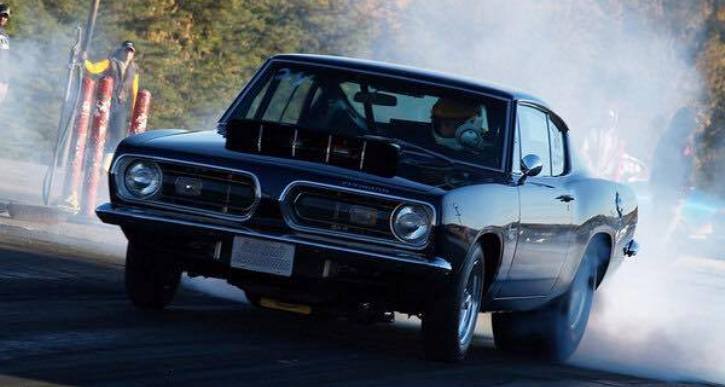 If you are a proud owner of a Mopar or any other American muscle car and would like to share your story with the world, don't hesitate to email me at: danny@hot-cars.org
Want to See Action? Watch My Dodge Dart Drag Racing Compilation!