Ray Colclough and his buddies are very passionate drag racers living quarter mile at a time. They have a little club called "The Watts's Shop" and never miss a chance to entertain the crowd at Santa Pod Raceway. We definitely look forward to feature more of "The Watts's Shop" race cars. Now check out the video we put together for Ray's 1968 Dodge Dart and read the full story below.
I bought the 1968 Dodge Dart in late 2008. It was street legal at the time with a 440 in it on gas, supposedly running in the 10's. I already had a '69 Dart running in the 11's and knew that 9-seconds was where I wanted to be with the new car. It had run 8.2 @ 180mph when it was built originally in the mid nineties, so whatever I was going to throw at it, the car would handle it just fine.
My friend had been trying to sell a tube chassis Challenger running a 500 cubic inch Indy headed motor without success, so we took the engine out of that and put it in my 1968 Dodge Dart. In the Challenger it had run 8.9 @ 151mph, however my A-body was much heavier and we were sure that it wasn't going to be anything near that, but it should put us in the 9-seconds club.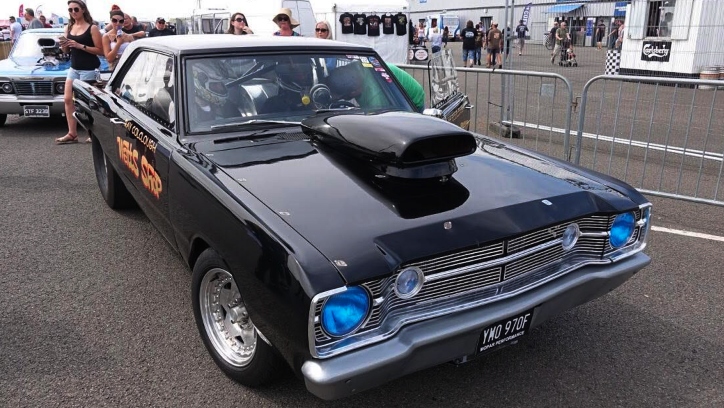 We did the work during the winter of 2008/2009 and my 1968 Dodge Dart was ready for the 2009 season at Santa Pod Raceway. I raced the car like that for 2009/2010 running a best of 9.71 @138 mph. I couldn't compete in 2011 and with a heavy heart sold the '68 Dart to a guy in the south of France. He campaigned it at several tracks in France and Europe and even took it to the famous Hockenheimring race track in Germany.
I stayed away from the track for few years, but eventually couldn't resist going back, crewing and helping out the other guys at the Watts Shop who are a bunch of good friends. I was at the strip with the guys at our last event of 2018 and one of them said: Hey don't you miss that 1968 Dart? I did so at that event I messaged the current owner in France asking if he wanted to sell. He didn't but promised he would contact me if he ever does.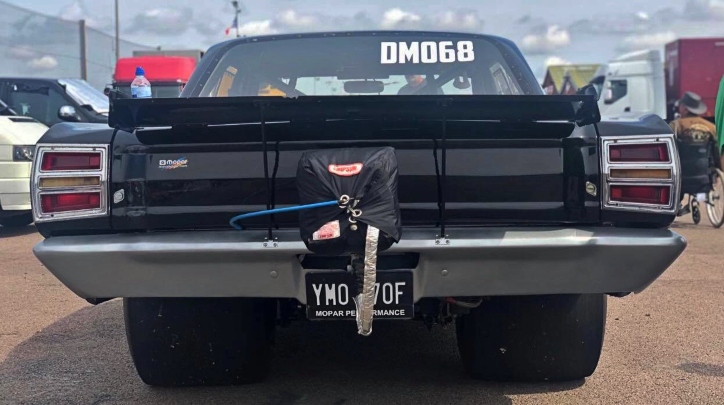 It was February of 2019 when out of the blue I got a message of him offering me the Dodge Dart back. It wasn't the right time for me to buy it, but I couldn't resist and I knew that I would never get another chance, so a deal was done. It was on its way back home, transported by a friend who owns a car moving company. The French guy had looked after it well and had recently freshened the motor. I was so pleased, it was like waiting for an old buddy to show up.
My first meet was the Mopar Euro Nats at Santa Pod Raceway. My first run with the '68 Dart produced a 9.76 @ 138, right on the money where it always was, I was happy with the car, and myself to get straight out there and run the numbers. This year due to the Covid situation I have only done one meeting at the Hot Rod Drags in September. After a couple of tweaks it ran 9.62@139mph, which was a new personal best and stayed in the 9.6's all weekend.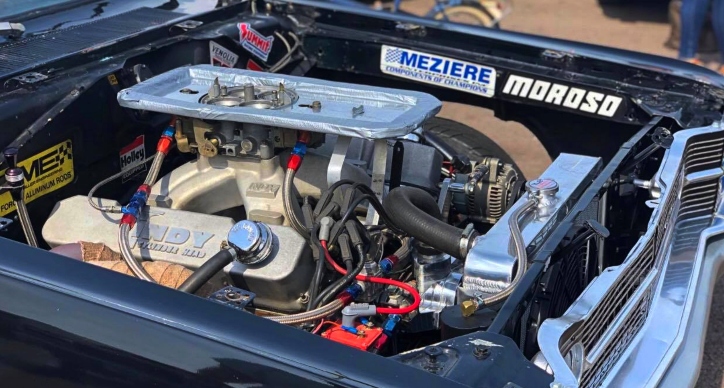 Engine & Transmission
Mopar Performance 4 Bolt Mega Block 500
Indy SR Ally Heads Max Ported
Indy R1 660 Roller Cam
Indy Roller Rockers
Indy Lifters
Indy Intake
Titanium Valve Retainers ( Locks )
Holly 1050 Dominator Carb
Eagle 4150 Crank
Bill Miller Ally Rods
Bill Miller Pistons 13.4.1 Compression
Mopar Race Tach Drive Distributor
Milodon External Single Line Swinging Pick up
Mopar Superstock Pan
Accel 300 Leads
Hooker Super Comp Fenderwell Headers
Champion 4 Core Alloy Radiator
2 Speed Powerglide With Transbrake
Additional Spec:
Pro Narrowed 9″ Rear Axle
Wilwood Rear Disk Brakes
Strange Front Disk Brakes
Hoosier Rear Slicks 33/16/15
Centerline Convo Wheels
Fuel Cell
Fiber Glass Lift Off Doors
Fiber Glass Boot Lid Zeus Clip Fitted
Fiber Glass Bonnet Zeus Clip Fitted
Fiber Glass Bumpers
External Electric Cut Off Switch
Glass Windscreen
Lexan Windows
Interior:
Painless Wiring Kit & Control Box
Autometer Monster Tach
Autometer Gauges
Roll Cage
Ally Tinned Interior
Jazz Seats X2 With 5 Point Quick Release Harness Fitted
B&M Pro Stick Shifter
Linelock
Transbrake
Fire Extinguishers
You May Also Like Scott Seese's Dodge Dart GT Drag Car Video