I had to wait for a while until the weather in Canada gets better, so Kyle can take out his beautiful 1970 Dodge Challenger, but it was worth the wait. Immaculate Plum Crazy Purple A66 340 Mopar with awesome sound, loving it. Check out the video I put together and read more below.
I have always been a Mopar guy and have owned a '71 Charger, '70 Cuda and a '68 Road Runner. When we moved in 2018 I sold my Road Runner and within a year because of the muscle car itch I bought a 73 Mach1 351CJ 4-speed. It was an impulse buy and 12 months later it was gone. I just wanted another Mopar.
While holding out for a 1968-70 Charger, I saw an ad for a beautiful 340 Duster. I went to the small dealership about 90 minutes away and was set on buying it. When I walked in, I saw this Plum Crazy Purple 1970 Dodge Challenger sitting in the showroom floor. The dealer just got it in and it wasn't even cleaned or detailed yet. But I said screw the Duster, I want the 340 Challenger.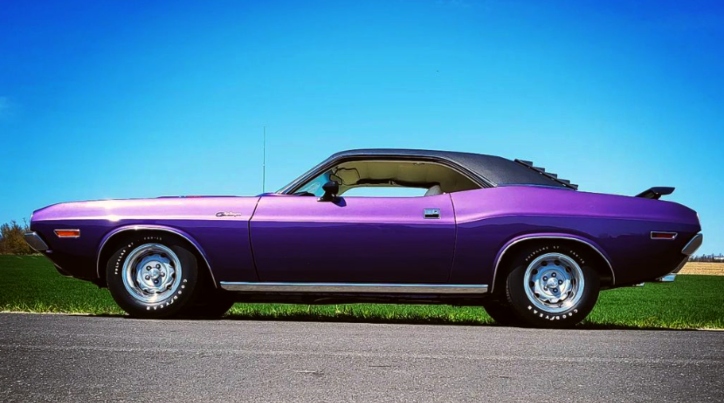 Not knowing too much about the Dodge Challengers, I was asked by someone on Facebook if it was an A66 Mopar. Didn't know what the A66 meant, so I looked it up and discovered it was the high performance option of the 340. In other words, a de-badged R/T, even though the R/T didn't come with the 340.
The Mopar 340 Engine Specs
The 340 block is hot tanked, magna fluxed, and bored .030 over. It has 11½ to 1 compression flat top aluminum TRW pistons, redone stock forged steel crank, COMP Cams .454 lift cam, original manifold, 450 CFM Carter AVS carburetor. The J-heads are machined and 5-angle valve job was performed. The transmission is a rebuilt 727 with Cheetah manual valve body and 3,500 stall converter.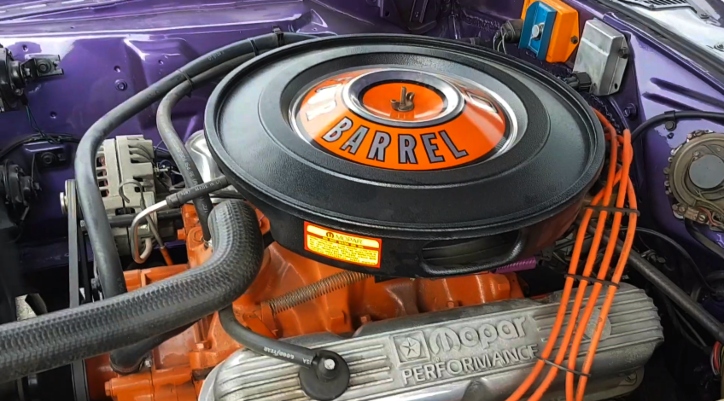 I have done nothing to my 1970 Dodge Challenger except changing the transmission shifter from the slap stick knob to the pistol grip. No issues so far other than a very slow oil drip, but like any old muscle car, if there isn't something dripping then it's probably out of fluid. There is absolutely nothing to do to it other than wash it, wax it and drive it.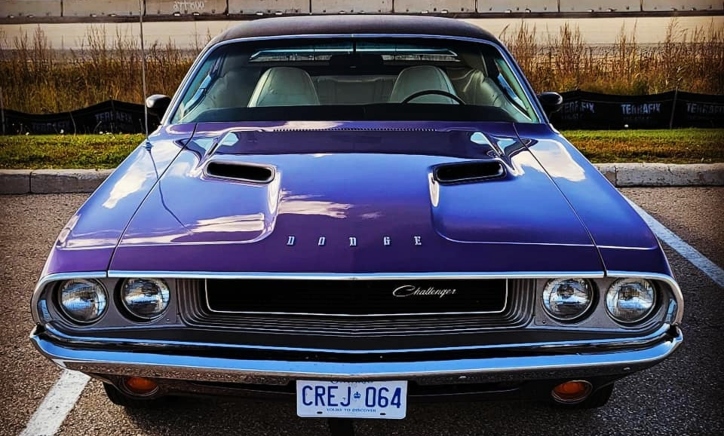 I love that it is a factory FC7 Plum Crazy Mopar and the paint just pops in the sun. Went to a few car shows and the Challenger draws a lot of attention, but never stayed long enough to see if it would bring in any awards. I have been thinking about upgrading the suspension for better handling along with the rubber. The Polyglas tires while looking good, are not the best on the road.
You May Also Like Dave's 1970 Dodge Charger R/T Story!