I am sure many of you remember Clint Brunner's real LO23 Dodge Dart we featured about 12 months ago. Clint has some amazing Mopars in his collection and it is time to show you another one of his gems – The Rare '69 Dodge Charger Daytona. Check out the video I put together and read the story told by Clint below.
I bought my '69 Charger Daytona 10 years ago. Although I now have a collection of Mopars (several Chargers, a 1967 GTX with 572 HEMI, a 2018 Demon that I race, an LO23 Dart that I race, etc), growing up in the '80s and '90s during the meteoric rise in popularity and value of muscle cars, I could only dream of owning a wing car someday.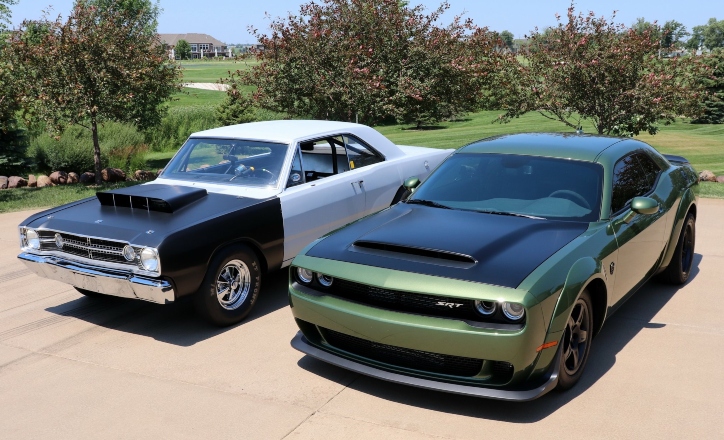 I was raised in a loving home but we all had to work hard and pitch in to survive. The one automotive treasure we possessed was the 1970 Dodge Charger 500 that my parents bought new, but was starting to rust away when I was in high school. That was my parents' daily driver for years, and I was brought home from the hospital in that Charger, when I was born.
That was the car that ignited my Mopar passion, and I absolutely consumed every available bit of knowledge on these cars, mostly in the form of Mopar magazines, since this was largely pre-internet era. I restored that Dodge Charger when I was in college, doing much of the work myself, and that car will never leave my family (let's face it, NONE of my cars will leave the family as long as I'm alive and solvent).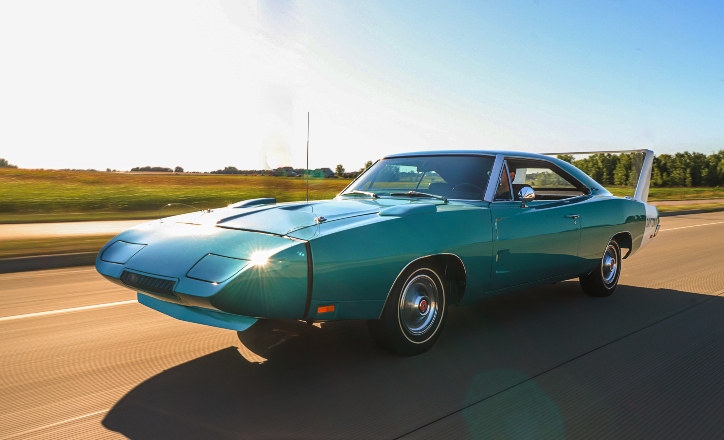 As I went through my education and continued to work extremely hard and achieve several personal, professional, and financial goals, I was able to start getting back into the car hobby. My wife and I had three sons by this time, and I have tackled a project car with each one of them. Growing up poor but always willing to work, I couldn't afford to pay somebody to fix my cars every time something broke, so I had to learn to fix things on my own.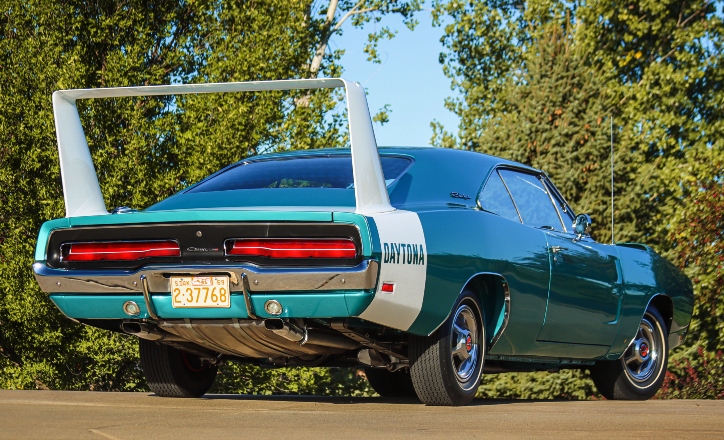 This was before the wonderful resource of YouTube how-to videos, so it was more challenging. When we were searching for a '68 Charger for my oldest son's project car, we found our absolute dream Mopar advertised online – an extremely rare color of Q5 paint on a '69 Daytona that had been restored to the degree that it won the Winged car class at the Mopar Nationals upon completion. We still talk about how my youngest son cried tears of joy when I announced at the dinner table one night that I had made a deal to buy the Dodge Charger Daytona!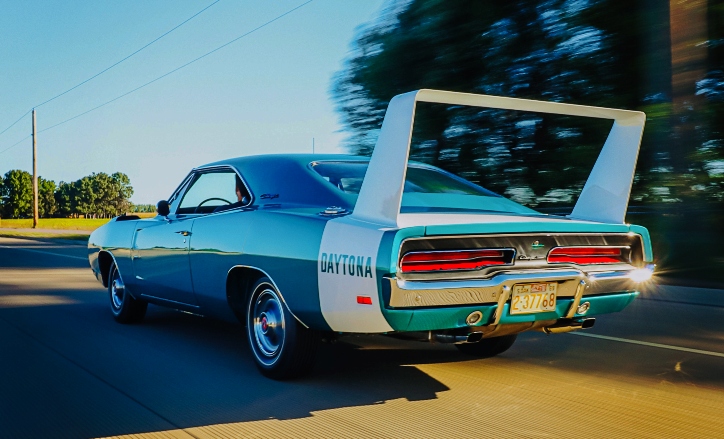 Believe it or not, the '69 Daytona was restored over 30 years ago, and still shows extremely well! Credit for this amazing effort goes to the car's 4th owner, Charles Self, who bought the car from Jerry Juenemann (who himself rescued the car from a barn in Ohio). Charles was captivated by the extremely rare option list of this Mopar, particularly the unusual Q5 Bright Turquoise Metallic paint, which paired quite well with the white wing and black interior.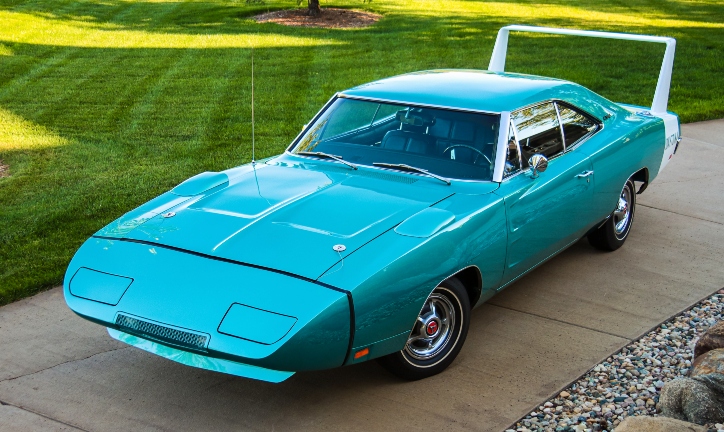 When completed, Charles took it from coast to coast, showing it off. When he took it to the Mopar Nats in 1996, it took top honors in the Wing car class, and even caught the attention of multiple magazine editors, one of whom called it "the KING of the 440 Daytonas". It also caught the attention of the Ertl scale model company, and the honored the car by producing a (slightly-altered) model of this very car as a "special edition", which you can still find available on eBay sometimes. This special edition model even included a copy of the window sticker from this car, even copying the original selling dealer (Harley Motor Sales of Grove City, Ohio).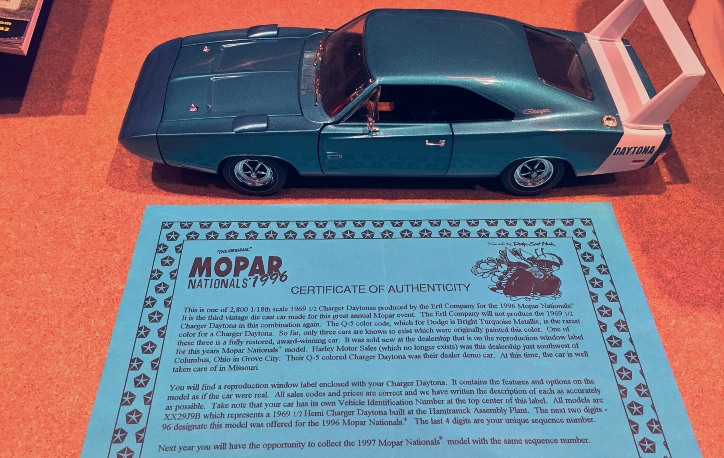 In addition to the paint color, this '69 Charger Daytona has other unique options, including a 6-way adjustable driver seat, rear window defogger, and deep-dish wheel covers (which had to be sourced from 3 different states, to find the correct ones). Although it was thought for many years that there were only 2 or 3 Q5 Daytonas, a few more have been unearthed, and there are now thought to be 5 or 6 of them- still pretty rare! They are all 440 cars, and this may be the only one that came with black interior and white wing.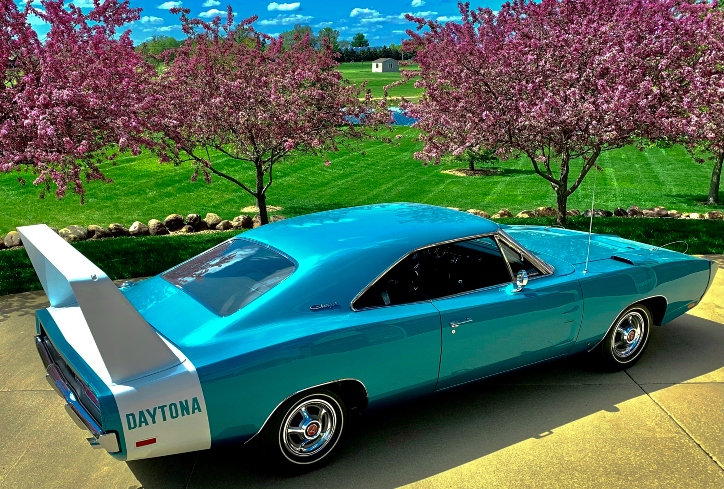 When the restoration began in 1991, the car had 39,000 miles. I drive it every summer, and usually put on a few hundred miles every year. The '69 Charger Daytona now has 43,000 miles on the odometer. Although I do drive it, I fully detail every inch of the Mopar on my lift, after each outing, to maintain the car in it's exquisite condition. I just finished repainting several items in the engine bay that were starting to discolor, and even though my schedule only allows me to take it to local events, I feel the Mopar would still stand tall at a national-level event, particular for a car that gets driven.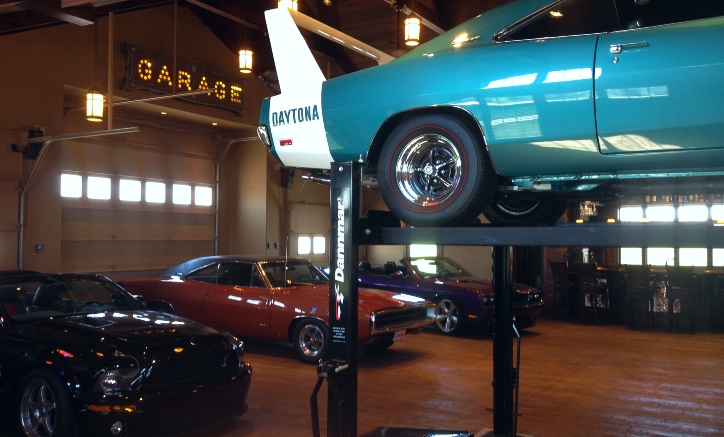 There is nothing like looking back and seeing the wing and uprights in the mirrors as you drive it, and the attention it gets on the street is almost embarrassing.
Even though we are spoiled by some ridiculously-overpowered Mopars in our collection, the completely stock 440 Magnum still impresses with its prodigious torque, and can boil the tires with ease. It is certainly one of our favorites to pull out of the garage and take for a spin. The look people give me when they learn that I DROVE the '69 Charger Daytona to the area car shows is pretty rewarding.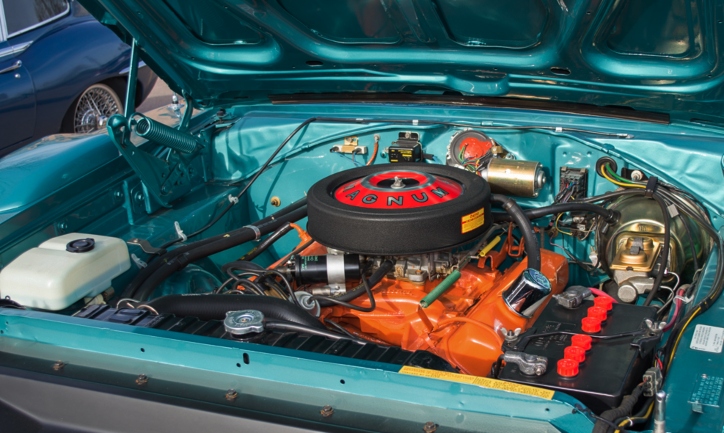 You can check out more of Clint's Mighty Mopars (including his LO23 Hemi Dart and his 1967 Plymouth Hemi GTX), along with several other brands in his collection on his Instagram page: @dakota_gt
Did You See Clint's Real LO23 Dodge HEMI Dart Story?