Lisa Caldwell is definitely a lady you should treat with respect, especially if you line up next to her 1973 Dodge Dart at the strip. Check out the video we put together for Lisa and read the story below.
Lisa Caldwell, what a lovely Mopar lady, isn't she? Launching with those awesome wheelstands each and everytime she lines up at the drag strip with her 1973 Dodge Dart Swinger, not afraid to face some modern muscle cars like the Hellcat Challenger and regulary winning cash and trophies.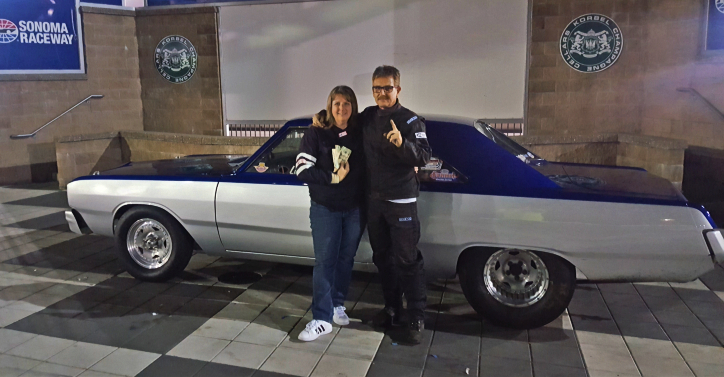 But as Lisa likes to say, she is a member of a two-car team. Her 1973 Dodge Dart Swinger and her husband Steve Caldwell's 1972 Pontiac Ventura you see on the picture. In fact, we have been exchanging emails with Steve for a while as he provided all the pictures and videos we used and Lisa wanted to do the write up herself. So here is what she wanted to share with fellow drag racers and Mopar fans.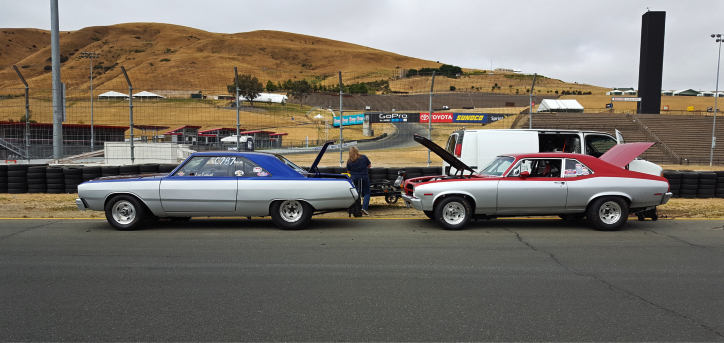 My father was a hobbyist drag racer in the 1960's, but stopped racing in 1968 to raise his new family. After a long career at Mare Island Naval Shipyard, my dad operated a machine shop and custom car fab shop out of our home, so I was around cars in many facets of life. Around 1982, my uncle had a drag car and enticed my dad to start racing again, sharing the seat time in his 1969 Dodge Dart.
As a young lady, I was not very interested in racing or anything my dad was doing. It wasn't until 1989 when I was in high school, and my dad approached me about racing again. He said, "You know…there are a lot of single guys that hang out at the race track." Well, that was enough for me! When the Thursday night street drags opened in March, I attended with my dad and made my first pass down the track. ET 18.23 at 79mph…. and I was hooked!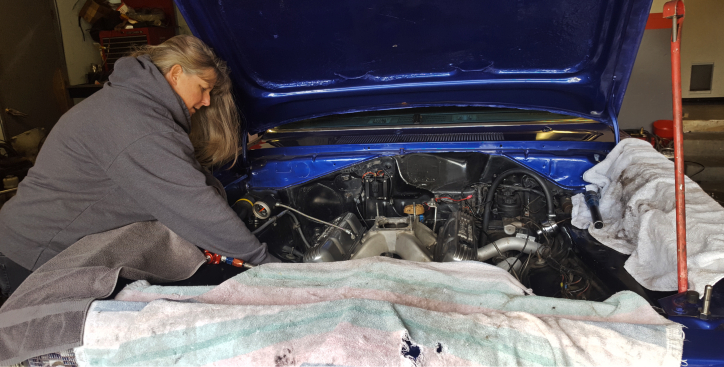 My first race car was my daily driver – a baby-blue, white vinyl topped, 1973 Dodge Dart Swinger. The Dart was my sister's first car, which she bought for $425 from a couple going through a divorce, in which he had intentionally bashed in all four corners in some sort of revenge. My sister drove it for about a year and then I bought it from her for $400 with an upgraded stereo. I thought I had scored!
I started to work on the car's appearance in an effort to get rid of the "grandma look" as I called it. I ripped off the vinyl top. I also shaved all the chrome moldings around the top and running the length of each side. I think those rivets ran every 10-12", and to grind each one off was not fun. We shaved and filled the side-marker lights and the turn signal nubs, and relocated the gas filler into the trunk. It came together but in gradual stages, and I drove the car with every color of primer on each fender and quarter.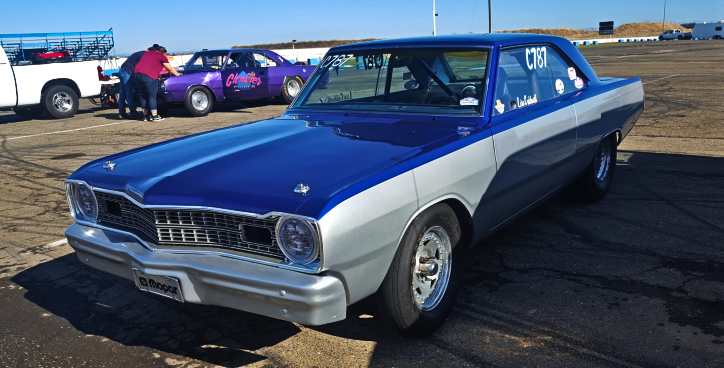 I raced with the stock 318 cu.in. engine for the first year or so. Even without power, the one-legged rear-end on radials spun pretty bad. My race prep routine was to add a 70lb. tractor weight in the spare tire recess in the trunk, bolt on metal snubbers on my extended slapper bars, and remove the air cleaner. It ran that set up until it spun the timing chain one day on my way to school.
The next engine was a very mild 340, hydraulic cam, nothing special. I ran in the mid-low 16s with it. Rather than add a bunch of power, my dad suggested we focus on the suspension first. He knew about the kit Mopar sold to relocate the leaf spring inboard to accommodate more tire. He built mini-tubs and also added frame connectors to stiffen up the chassis. Dad narrowed and built a solid 8.750 with 4.10 gears. My car looked pretty bad ass with 325/50/15s.
My dad's racing operation stepped up when he had an opportunity to run a dragster in NHRA Competition Eliminator. I crewed and traveled with my dad from 1991-93 in the early stages of that operation and some great memories were made on those race trips for each of us.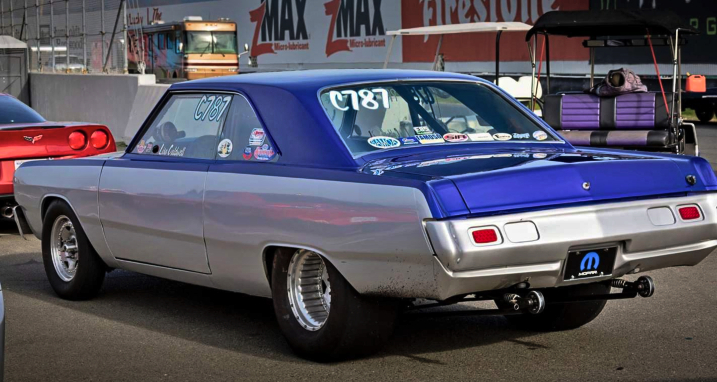 In 1994, I met a guy, Steve Caldwell, at our local race night who was just messing around with his car. He didn't care much about racing but more interested in seeing how fast he could make his car run. I made him aware of the weekend bracket races when you could win money and not just a trophy. The first Saturday he came out – he won! From that day forward, and officially in June 1995 when we married, we've been a two-car team. Steve has built a few engines for my Dart in progression to the current combination. Basically, I was running 12.30's when we met and now 10.0s in the same car, and always on a minimal 2-car-team budget.
The current combo ran 10.30s initially in 2006, and recently ran a best ET of 10.02 at 131mph. It's a 360 cu.in. Dodge truck block, solid filled, with Scat 4" crank and h-beam rods. It has Hughes Engines stage-3 Edelbrock heads with a Hughes solid flat-tappet cam, 280 duration at .050 with .633 lift. I run an M-1 intake and 950 HP carb, which Steve converted to run E85. I've always ran the 904 tranny with a 2.77 1st gear. I'm running a Dana 60 with 4.56 gears. My car has a roll bar only, so we're keeping it in the 10's, though we know it has 9-second pass in it. With driver, the car rolls at about 3000 pounds.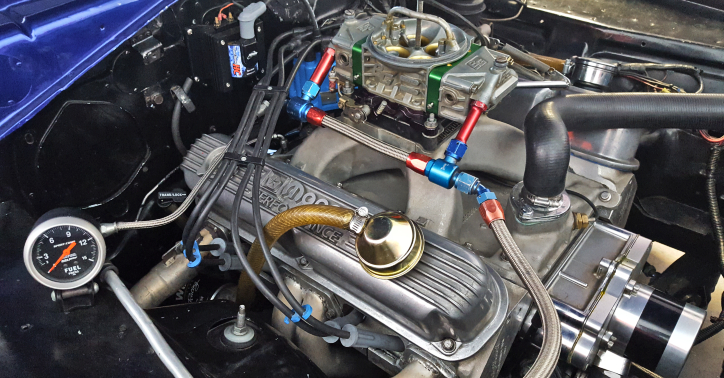 Since I began racing, I've earned 4 ET Bracket class season championships at two different tracks, 3 at Sonoma Raceway and 1 for Sacramento Raceway. I am a many time race winner of various bracket and class events, though the coveted Wally has eluded me. I also was selected to race on the Pinks All Out TV series on two seasons. I also have a couple videos on YouTube that have a pretty good number of hits… oh, did I mention my car does wheel-stands?
Don't Miss Clint's Real 1968 Dodge HEMI LO23 Dart Story