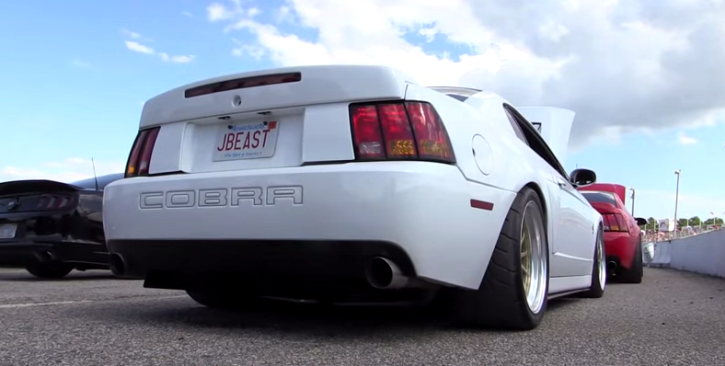 2004 Mustang Cobra with Brutal Voice.
It has been a while since we had a Cobra Mustang on Hot Cars and I think this 2004 Cobra Terminator in Oxford White packed with mods is something the Ford people will be happy to see and hear. Slammed to the ground riding on a set of Gold face 18-inch wheels this Ford Mustang has a nice sporty look. Under the hood this pony hides a 4.6 liter motor with Whipple 2.3 liter Supercharger pushing over 600 horses. So far so good, but this 2004 Cobra Terminator's custom exhaust system is what this video is all about. The combination of Mac Longtubes, Lethal O/R X-pipe and SLP Loudmouth II Muffler make this Whipple Supercharged Cobra Mustang voice just awesome.
Check out the video brought to you by "StangVids". Watch, Enjoy & Share!
More on Hot Cars: 1350hp Turbocharged Mustang Cobra "Boosted GT"