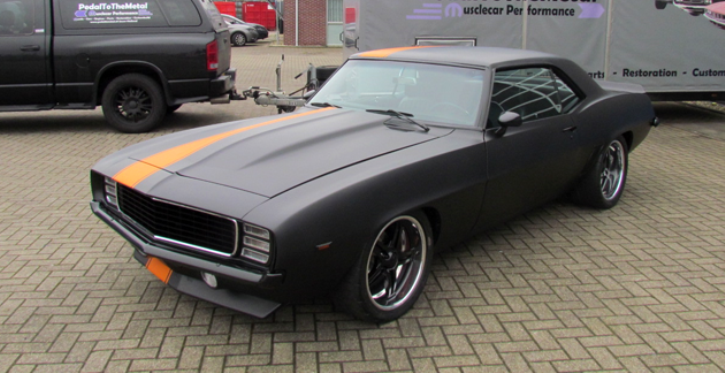 1969 Camaro Custom by Pedal to the Metal!
The 1969 Chevy Camaro was a 2-door performance vehicle that was available in hard-top and convertible versions. The design of the '69 Camaro deviated from the previous models to become more aggressive and sporty. The grill featured a heavier "V" while the headlights were deeply inset, contributing to the wider and lower look of the iconic muscle car.
Killer body work
This custom Chevrolet Camaro "Dart Fader" is a work of art and guarantees to attract attention. The entire body and chassis including the rear wheel mini-tub, front frame, inner fenders, quarter panels, fenders, doors, and floor was rebuilt and restored. The extensive restoration ensures durable and reliable body, without compromising on the authenticity of the classic '69 Camaro design. All the details in the vehicle were de-chromed before powder coating and painting in semi-satin black. The single orange offset racing stripe is a decal that goes perfectly with the intense aggression of this Pro Touring 1969 Camaro RS/SS.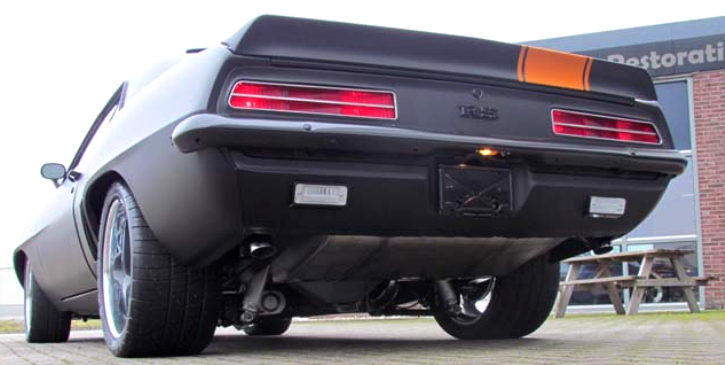 Excellent performance
This Camaro Pro Tourer is built with a big block 572 cubic inch engine manufactured by DART and complete with DART Pro Aluminum heads. The motor can churn out a maximum of 780 horsepower and it is complemented by the use of a TH400 HIPO transmission also built at the Pedal to the Metal shop. The custom front subframe is held up by coil over suspensions and the rear axle features ladder bars. All the parts of the drive-train in the custom 1969 Camaro SS/RS are built to allow it to outperform almost any other street-legal car.
Check out the video. Watch, Enjoy & Share!
Gotta see on Hot Cars: Big Block 1969 Chevy Camaro Murdering the Tires
[sdonations]1[/sdonations]