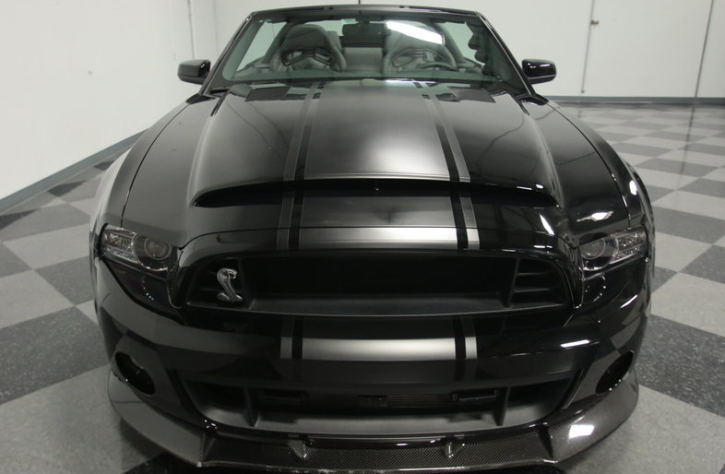 Blacked Out 2013 Shelby Mustang GT500 Beast!
When talking about classic or modern Mustangs we all know that if the name of the legendary Carroll Shelby is involved this is a high performance muscle car. That's the case with this 2013 Shelby GT500 Super Snake as well, but on top of all the factory upgrades the owner of this convertible Ford Mustang has invested another $100,000 in various modifications to transform what was already a fast car into one real beast.
Looking at the Blacked out body of this 2013 Super Snake Mustang you will notice a custom front splitter and special hood both made of carbon fiber as well as stripes only visible from the right angle, which combined with the 20-inch Satin Black forged rims creates a super aggressive look.
Once the Black Canvas convertible top of this custom 2013 Shelby GT500 goes down you will see a well optioned all Black interior with Shelby style racing seats dressed in high end Katzkin leather, steering wheel wrapped in Alcantara and much more.
The stock 5.8 liter V8 engine of this Mustang GT500 Super Snake rated at 662 horsepower is seriously modified with a 3.6 Liter Kenne Bell twin screw supercharger twice as big as the factory unit, bigger cams, upgraded intercooler and more high performance components to kick in way over 800hp controlled by a 6-speed manual transmission.
See the video brought to you by StreetSide Classics and don't forget to SHARE!